Group invests diaspora cash in thriving manufacturing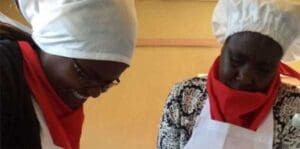 At Gakoye village in Murang'a County, we find Mary Wambui, 17, dressed as a chef.
Mary sat her KCSE examinations last year and her dream was to join her father in the United Kingdom, but she doesn't seem keen on that trip any more.
Surrounding her are containers of milk products that include natural and flavoured yoghurt, cheese, butter, cooking fat extracted from milk and fresh milk.
Customers, including young children, are either sipping the milk products or walking in and out after getting their takeaways.
The only thing Mary won't sell is the fresh milk, either raw or boiled.
"I pay my mother Sh40 per kilo of milk against other buyers who offered her Sh30 per kilo. My mum is also supportive in making my business a success," said Mary.
Her mother's cow produces an average 30kg of milk per day, but Mary buys 25kg, prepares yoghurt which she sells at Sh280 per kilo.
"I sell a quarter of a kilo of yoghurt at Sh70 at home and at Sh60 to a retailer at a nearby market so that she can retail at Sh70. Selling at Sh60 I earn Sh6,000 per day from the 25 kgs of milk. The total cost of production including payments to my mum and labour is Sh1,500," said Mary.
This cost does not include sales made from cheese, butter, cooking fat. Mary occasionally makes milk shakes that is a favourite of children.
She has been in this business for about a month, starting a few days after joining the Kamuka Self-Help Group.
Her dream is to buy cows, support her mother increase milk production and start packaging her products for bigger outlets.
Kamuka group members sell milk products in local retail outlets, but make a killing during public events such as public holidays and farmer field days.
The venture also trains farmers at between Sh1,500 and Sh2,000 daily.
They are beneficiaries of Diaspora Initiative for Support at Home (DISH) and Urban Dwellers Home –Community Support at Home (UHSP).
These programmes are the brainchild of people working in the diaspora and urban areas who opted to start small businesses in their villages instead of sending money regularly for daily expenditures.
Beneficiaries are taught skills that include value addition, winemaking using pineapples, mangoes, pawpaw, pumpkins, banana, cereal products such as wheat and oatmeal, breakfast cereals, vegetable drying and vegetable flours, and chilli sauce, juices, pop-corns, and peanut butter.
They are also trained in chemical and cosmetics making such as bar soap, liquid multipurpose detergents, powder soap, bleaches, and shoe polish.
DISH coordinator and senior trainer Ms Tabitha Nyakio says people in the diaspora and their home communities face a lot of challenges including physical, mental and emotional separation because of distances.
"Just like everybody else, those in the diaspora undergo a lot of struggle to make ends meet, because whatever monies they earn find competing needs, including paying utility bills, transport, mortgages, food and house rent leaving very little or nothing to spare," said Ms Nyakio.
"In Kenya for example, remittances contribute a lot to the GDP. Needless to say, almost all this money is sent to relatives of the people in the diaspora. While these monies are meant to fund well intended activities or projects of benefit to the remitters and their relatives, a lot of it gets misused or misappropriated," she says.
Ms Nyakio adds that this mainly happens because of a number of reasons, including a distance between the remitters and their relatives and the unreliability of those entrusted with the responsibility of doing what was intended.
The beneficiaries also lack knowledge and understanding on whom to trust, where to invest and in what.
After the training, the DISH has a follow-up and mentorship programme to ensure the success of the trainees.
The programme started in Kenya under UHSP, before covering East African communities and now DISH.