Kisumu Governor Anyang' Nyong'o Recovering from Surgery In The US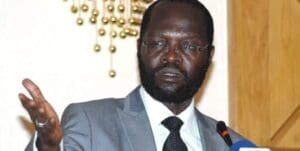 Governor Anyang' Nyong'o has castigated Kisumu politicians taking advantage of his health to perpetuate succession politics in the county.
The governor successfully underwent a hip bone surgery in the US where he has spent a better time of his post-campaign days.
Prof Nyong'o said he is aware of "godforsaken individuals who are writing his obituary at home".
"I feel quite good about myself though I miss home very much. But the kind of things people say behind your back when you are going through such an ordeal can prove very heartless."
Calling them political busybodies, the governor told the lot to know that "it is wrong to reduce the important matter of one's health to platform discourse".
"At times, this can be extremely annoying and upsetting, especially when political busybodies reduce," he said in an opinion carried by The Star on Saturday.
He said the group campaigning on the auspices of his health are doing so for pure self-aggrandizement.
"This is done in words that are insincere, dishonest, callous and absolutely uncivilised," Prof Nyong'o says in his piece.
The county chief is recovering from the 90-minute surgery which was conducted a week ago at a hospital in the US.
It involved an eight centimeters cut on his thigh as the hipbone was replaced with an artificial one.
"Currently, I am on outpatient care involving nursing care, physiotherapy, occupational therapy and weekly visits to the doctor to examine progress made."
"As soon as the doctor certifies me fit for travel, I will be heading home to join the gallant people of Kisumu in building the county, and the NASA compatriots in the struggle for electoral justice," he said.
Nyong'o spoke amid cries by Kisumu Senator Fred Outa and Speaker Onyango Oloo accused the county's deputy governor of undermining his boss.
They alleged that Mathews Owili is out to undermine the county government in order to ascend to power.
The leaders said there is wishful ill-intent thinking about the health of Nyong'o that would eventually give leeway to his deputy to take over.
Owili denied the claims saying the governor succession politics for 2022 is at play.
He promised to expose the "schemers of the administration's downfall" adding that his relationship with the governor is 'tight'.
"Let them know that our ideologies and working chemistry is inseparable," Owili told the Star in a recent interview.
Sources within Nyong'o's administration said the allegations are part of a row over appointments and tenders.