I thought Kalonzo is your man in 2022, Ruto tells Raila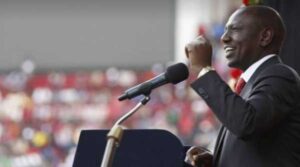 NAIROBI, Kenya, Jan 26 – Deputy President William Ruto is questioning Raila Odinga's assertion that he can only succeed in the 2022 presidential race with his backing.
Ruto wondered when Odinga changed tact and opted to offer him help in securing the presidency, yet he ought to be backing his 2017 running mate Kalonzo Musyoka to seek the presidency in 2022.
"We thought Raila signed an agreement to support Kalonzo. Has he since realised that Ruto is a better candidate than Kalonzo?" posed DP Ruto's Spokesman David Mugonyi.
Mugonyi said Odinga's statement without a doubt confirmed that Ruto is the best candidate to be President in 2022.
He however made it clear that Ruto was not interested in politicking at this time "since he is keen – with President Uhuru – to deliver on key planks of Jubilees agenda for the country-food security, universal healthcare, housing, job creation, value addition and manufacturing and education."
Odinga who spoke on Thursday in Kipkelion East suggested that Ruto could only clinch the top job in the country with his support.
"President Uhuru Kenyatta knows very well that he never defeated me in the General Election. Even Ruto, if he wants to be President, he cannot win an election without Raila," Odinga remarked during the burial of Orange Democratic Movement (ODM) party Kipkelion East branch Chairperson, William Koech.
Odinga was named NASA presidential candidate on April 27, 2017, amid intense pressure from supporters of the alliance who expressed concern over the delay to name a candidate in time for the August 8 presidential election.
Kalonzo Musyoka, Musalia Mudavadi (Amani National Congress), Moses Wetangula (Forum for Restoration Democracy – Kenya), and Isaac Ruto (Chama cha Mashinani) were each allocated slots in the NASA line-up.
Whereas Musyoka was named Odinga's running mate, Mudavadi, was to be made Chief Cabinet Secretary while Wetangula and Ruto were to deputize the ANC leader.
Ruto later quit NASA and supported President Uhuru Kenyatta in the October 26 presidential election following the nullification of the August 8 presidential poll by the Supreme Court.
Musyoka's supporters, however, felt cheated since a coalition agreement between WDM and ODM during the 2013 presidential election was widely interpreted to mean that Odinga would support Musyoka in 2017.
Odinga's cronies, however, dismissed the position saying the agreement sealed under the Coalition for Reforms and Democracy (CORD) at the time could not have taken effect since Odinga lost the March 2013 presidential election.
ANC supporters, on the other hand, were disgruntled that Mudavadi who came up with the new coalition – NASA – had been given a position which did not exist in the Constitution.
Article 152 of the Constitution states that the Cabinet consists of "not fewer than fourteen and not more than twenty-two Cabinet Secretaries" in addition to the President, Deputy President and the Attorney General.
It is not clear if NASA will remain united until 2022 after losing the October 26 election to President Kenyatta's Jubilee Party.
NASA has been racing against time to hold regional People's Assemblies ahead of a planned swearing in of Odinga and Kalonzo as its President and Deputy President next week Tuesday.
The alliance has also unveiled a wide-ranging campaign including economic sabotage through its newly constituted National Resistance Movement to compel the government to convene a national dialogue on electoral reforms.
Recently NASA strategist David Ndii claimed that the alliance would use the August 8 poll results as the basis for the swearing in of Odinga and Musyoka.
"By the act of annulling Uhuru Kenyatta's victory, the Supreme Court of Kenya validated Odinga's election victory on August 8," he said.
"If Kenyatta's election was null and void, it stands to reason that the election was won by someone else and that person is Odinga and his running mate, Musyoka," Ndii said during a news conference on Thursday last week.
He said that the People's Assemblies would hold a national convention and thereafter push for changes in the country's electoral system and national government executive structure.
"We must agree on how to share power and exercise it responsibly, how to share opportunities equitably and above all how to coexist peacefully as distinct communities brought together by the cruel fate of colonialism," Ndii stated.