Kibaki's new love for his Sh400m Mweiga home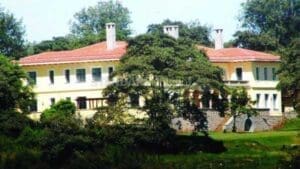 The serene surrounding of the multi-million shilling residence in Mweiga, Nyeri County, seems lately to be captivating former President Mwai Kibaki, where he retreats to over the weekends.
There was speculation on whether Kibaki would ever occupy the palatial home after showing preference for urban life even after retiring from the presidency.
But now, the 85-year-old golfer who had initially operated from Muthaiga in Nairobi, has become a common figure in Nyeri, causing excitement among residents.
Kibaki, a devout Catholic, attends Sunday mass at Our Lady of Consolata Cathedral in Nyeri town, standing shoulder to shoulder with his one time voters.
A convoy of sleek vehicles and hawk eyed security personnel announces Kibaki's presence at the church. Unlike his years as the head of state, Kibaki opts not to address the congregants and retreats behind the gates and the perimeter wall of the forested Mweiga property located on the Nyeri- Nyahururu highway.
Fast paced life
Even as he tries to maintain a low profile, dozens of residents mill around him eager to shake the hand of the region's most famous son.
For instance, during the Christmas holiday last year, Kibaki attended church service on December 24 and 25, each time mingling with the crowd and wishing them happy holidays.
Before retiring from active politics, the former Head of State preferred the fast paced Nairobi life, seldom being seen in Nyeri. But he has rekindled a certain fondness for Nyeri.
Back then, his visits to Othaya, the constituency he represented in Parliament from 1974, were rare, and it would take a special occasion for him to tour the region.
A fondness for the bright city lights lingered on in the early years of his retirement.
His former security advisor, Esau Kioni told Saturday Standard that the retired president had declared that he would remain in Nairobi.
"We asked him if he would retire in Nyeri and he asked if we expected him to leave Nairobi who will be left behind," Mr Kioni remarked.
He said the fact that Kibaki is often seen in Nyeri does not mean he has relocated.
"He is here on weekends and goes to church but he hasn't moved to Nyeri permanently. He still lives in Nairobi," he said.
The Sh400 million home in Mweiga is built on a 100-acre piece of land that is part of the 1,000-acre ranch belonging to Sasini Mweiga estate and was built for the former President as a retirement present.
It however remained unoccupied for years as Kibaki, never spent a night at the property until recently following increased trips to the town at the foot of Mt Kenya.
Gradual dip
But despite being in Nyeri County, Kibaki has kept away from his Othaya home.
"When he is in Nyeri he goes to Mweiga. I have never heard of him in Othaya," Kioni, a resident of Othaya, said.
The house, next to Mweiga airstrip, is not easily visible to the public. It is on a gradual dip behind a wall of cypress and pine trees with a long driveway from the main gate, under round the clock General Service Unit guard.
Former Nyeri County Council Chairman Wachira Maina who lives in the same neighbourhood, says it is hard to tell when the retired president is in the area unless he leaves the house for church.
ALSO READ: Why Uhuru Park is popular political playground in Nairobi
"All of us see him going to church whenever he is in Nyeri and I think he is very private. He has had a very active life and needs the break," he said.
Saturday Standard was unable to get the former president or his family to comment on his frequent trips to Nyeri but Mr Ngari Gituku, who served as Kibaki's spokesperson, said he still prefers urban life.
"He will go to Nyeri when there is an occasion and then will sleep over if he wants to go to church in Nyeri the following day. But moving to Nyeri permanently is a tall order," Gituku said.
For the residents though, the now frequent visits and sightings of Kibaki, a man who spent almost his entire adult life politicking kilometres away in Nairobi, is enough consolation that Nyeri has come closer to the much loved former president.