Doubts on Sonko nomination of Miguna as deputy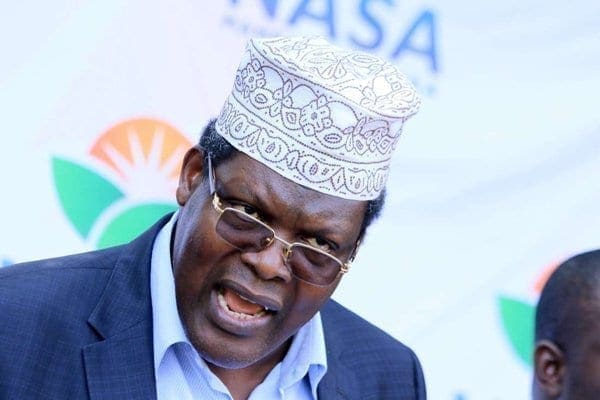 Question linger over the nomination letter purporting that Nairobi Governor Mike Sonko has appointed political rival and Kenyan deportee Miguna Miguna even as Nairobi County Speaker falls short of confirming or denying the authenticity of the viral letter.
In an interview with Hot 96 FM on Thursday morning, the Nairobi County Assembly Speaker Beatrice Elachi said the signature in the viral letter was Mr Sonko's but she had not yet received the letter.
"The Constitution is clear that a deputy governor needs to be a Kenyan citizen. I would tell Miguna to first clear his issues with the Kenyan government. He is Canadian," said Speaker Elachi.
Mr Miguna's lawyer Cliff Ombeta on Wednesday said that Mr Sonko has settled on the embattled opposition politician as his deputy, a surprise announcement that was greeted with unbelief since Mr Miguna was one of his fiercest critics in the race for the Nairobi governor's seat.
Nairobi County Deputy Communication Director Elkana Jacob shared the letter on his Facebook account but it was greeted with doubt with many City Hall sources reluctant to confirm its details.
However, Mr Miguna has not yet confirmed or denied the appointment.
The county boss has been under pressure to nominate a deputy since the departure of Polycarp Igathe in January this year.
Mr Ombeta said Mr Miguna's name has been forwarded to the Speaker Elachi for vetting and approval.
"Yes, it's true and I will be headed to City Hall this morning[Thursday]," said Mr Ombeta.
Mr Miguna, who was deported to Canada by the government, had to cancel his planned return to the country on Wednesday after the Immigration Department insisted he must apply for Kenyan citizenship before he can be issued with a passport.
The High Court had ordered the Immigration Department to facilitate his travel back into the country after it quashed a directive by Interior secretary Fred Matiang'i which declared him a prohibited immigrant.
"I was determined to arrive home on schedule, however, just before my departure, I reluctantly cancelled my flight to Nairobi and postponed my next arrival date," said Mr Miguna.
It still remains unclear on how the issue regarding the status of his citizenship will be resolved.
Mr Miguna sued the government for declaring him a prohibited immigrant and the manner in which he was arrested from his Nairobi's Runda home and held in police custody before being twice deported.
While the High court has issued rulings in his favour, the government has appealed against those decisions and refused to facilitate his entry back into the country.
And since the opposition leader Raila Odinga and President Uhuru Kenyatta have agreed to settle the political stalemate following a bruising election, it is not clear whether the government will maintain its firm stand against Mr Miguna citizenship.
-nation.co.ke