Impunity: Sack deputy governor who works in the U.S, voters demand

Impunity: Sack deputy governor who works in the U.S, voters demand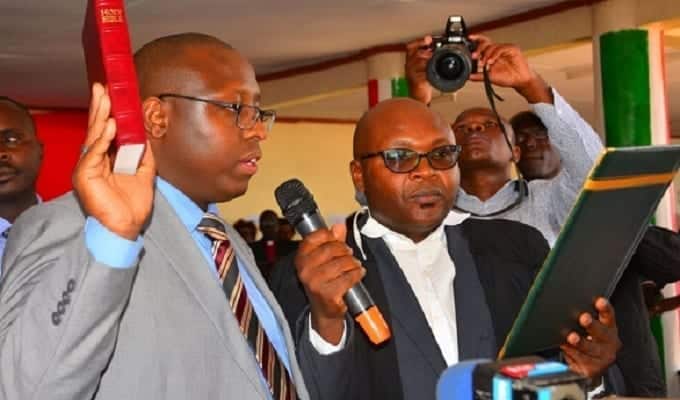 The absence of Dr. Nicholas Atudonyang is raising eyebrows in West Pokot as questions arise as to why the Governor is not taking any actions yet his deputy has been away for 8 months.
According to the Independent Pokot Leaders Forum (IPLF), the Deputy Governor has been in the county for less than one month ever since he was sworn in.
Dr. Atudonyang, who works as a neurosurgeon in Texas, left immediately he was sworn in after the August 2017 elections, the forum revealed.
They are now giving Governor John Lonyangapuo two weeks to sack and replace his deputy.
"He must relinquish the position if he can't stay in Kenya and work for the Pokot. We have many challenges due to poor leadership .We have seen many referrals to Eldoret and shortage of drugs," IPLF chairman Ezekiel Pyegoh said.
He added that if their demands are not met, they will collect signatures and institute proceedings for his removal.
Mr. Pyegoh further warned that they would stage a demonstration against Dr. Atudonyang should no action be taken.
Holds Two County Positions
The absentee deputy governor also doubles up as the Health County Executive committee member.
Currently, there is a pending petition before the Senate on the health crisis in the county.
8 infants died in their incubators after a power outage over an outstanding electricity debt of Ksh.1million at the Kapenguria County Hospital.
In addition, since the beginning of the year, a total of eight mothers have lost their lives while giving birth.
"They must rectify the mess. Many patients are referred to other hospitals outside the county. We shall use the Constitution to remove those in power and elect other leaders," Mr. Pyegoh added.
To make matters worse, there are reports of many ghost workers in the county office.
They are also demanding that the governor resign accusing him of over claims of stalling development projects started by his predecessor.
Governor Lonyangapuo is accused of not considering minority groups as per the 30 percent Constitutional requirement.
"During campaigns our Governor promised us jobs in different committees; minority communities like the Luhya, Sabot, Kikuyus and others. It' s now eight months and nothing has been done," one Fernandez Mukhwana said.
By Collins Shitiyabayi
Impunity: Sack deputy governor who works in the U.S, voters demand