Appeals court upholds Babu Owino's election as Embakasi East MP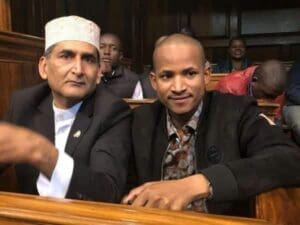 Babu Owino has retained his Embakasi East seat after the Court of Appeal overruled Justice Joseph Sergon's decision to nullify the election.
Justice Mohamed Warsame, in a decision by the three-judge bench presiding over the case, said the High court's reasons for nullifying the poll was not founded in law.
"Babu Owino was validly elected as Embakasi East MP," the judge said in the judgement issued at the Supreme Court buildings on Friday.
The court said it was not satisfied with the nullification of the learned judge and has allowed the judgement to be set aside.
On the issue of intimidation of the returning officer to announce the results, Warsame said there was no evidence to prove how that affected the results of the vote.
The appeal was being heard by Justices Warsame, Kathurima M'inoti, and Daniel Musinga.
The appellate judges dismissed the allegations of violence saying that they had no jurisdiction to rule on the same.
The court noted that the violence was minor and hence, did not affect the elections. "The unrest was only in one polling station."
Owino's lawyers James Orengo and Jackson Awele had told the Appeals court that Justice Sergon disregarded the evidence which he presented in his defence.
He further told the court that the irregularities cited were not substantial to affect the election result.