Nyanza's moment in the sun as Magufuli and Obama come calling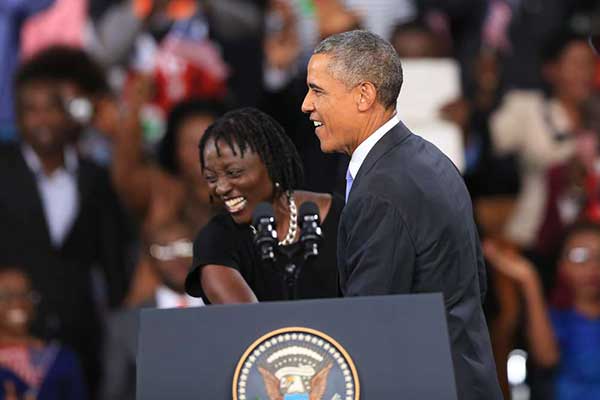 Nyanza region is gearing up to receive two high profile visitors — President John Magufuli of Tanzania and former US President Barack Obama — in the next three weeks.
Mr Magufuli will be joined by President Uhuru Kenyatta and Orange Democratic Movement leader Raila Odinga on a tour of south Nyanza on Friday next week.
Ten days later, the region will welcome Mr Obama who traces his roots to Siaya county where his father Barak Hussein Obama senior, was born.
Mr Odinga on Tuesday held a meeting with Nyanza leaders led by Migori governor Okoth Obado to plan for the two visits.
UNITE COUNTRY
"I met with leaders from Nyanza on the upcoming visit by Mr Obama and the planned visit to Nyatike (Migori) by Presidents Uhuru Kenyatta and Magufuli John Pombe," Mr Odinga said.
Mr Odinga did not explain the nature of the visit by the two heads of state which comes at a time when the opposition chief and Mr Kenyatta have been working together on the "Building Bridges Initiative" to unite the country.
Mr Odinga also enjoys a special relationship with President Magufuli traced back to their days as ministers in charge of roads in their respective countries between 2003 and 2005.
It will be the first time that President Kenyatta will be visiting Nyanza since the August 8 election.
INTERACT REGULARLY
The region is also looking forward to the visit by President Obama scheduled for July 16, with locals hopeful of an economic renaissance.
President Obama will be the guest of honour at the inauguration of the Sauti Kuu Foundation Sports, Resource and Vocational Training Centre, which was started by his sister, Dr Auma Obama.
The centre, an ambitious one-stop shop for the youth of Kogelo in Siaya county, will host an international-standard size football pitch, a basketball court, a volleyball/netball court and other facilities including a library, IT lab and a vocational centre.
Dr Auma has expressed hope that "the space will serve as a safe physical space for children, youth and their families to meet and interact regularly while taking part in various sports and learning activities."
SEEK SOLUTIONS
The centre in Alego, Nyangoma, will be inaugurated a day after the former US President meets with President Uhuru Kenyatta and ODM leader Raila Odinga.
President Obama's entourage will also include celebrated TV host Oprah Winfrey and Nigerian tycoon Aliko Dangote.
Nyanza leaders yesterday welcomed the two high profile visits, expressing optimism that they will use the Kenyatta-Magufuli visit to seek solutions to conflicts over the sharing of Lake Victoria waters between the two countries.
"We have a raft of regional issues affecting residents of the region. We shall discuss them with President Kenyatta and Mr Odinga before the day of the event," said National Assembly Minority Leader John Mbadi. He warned leaders against raising local issues during the visit.
FISHING CONFLICTS
"Mr Odinga does not expect local matters to arise as he and President Kenyatta will be hosting President Magufuli," said Mr Mbadi.
MPs Tom Odege (Nyatike) and Walter Sirawa (Awendo) said the constant arrests and harassment of Kenyan fishermen by Ugandan security officials should be addressed during the meeting.
"We expect the two heads of state to solve the issue of insecurity affecting Kenyan fishermen in Lake Victoria," said Mr Odege, expressing disappointment that Ugandan president Yoweri Museveni will not attend the meeting.
"President Museveni of Uganda should have been present to help address the conflicts over Lake Victoria," said Mr Odege.
Mr Mbadi said the special relationship between President Magufuli and Mr Odinga should come in handy in addressing the cross-border conflicts between the two countries.
-nation.co.ke