Slain woman's husband suspected nephew of siring child with his wife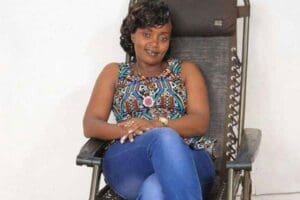 Benard Chege, the man at the Park shooting incident that left a woman dead, has been discharged from Avenue Hospital to an undisclosed location. This follows what the family said were threats from the police.
Chege had last week complained, from his hospital bed, of harassment from police, who he said wanted to forcefully take DNA samples from him.
"The officers say that they want a DNA test to ascertain that I was the one at the scene of the shooting. Aren't they the same people who picked me up from the scene? They are treating me like a suspect," he said.
Patients uncomfortable
According to the family, the hospital agreed to the plan because other patients were beginning to fear over events at the hospital. According to Chege's family lawyer, police had written to a staff at the hospital directing him to extract a sample from the patient.
In an interview with a Human Rights group, the family said they were wary of the police.
Chege was shot alongside Janet Wangui with whom they had been relaxing in a car at Nairobi's City Park three weeks ago.
According to Chege, the harassment by police might have been occasioned by the suspicion by his uncle, George Kirubi, that he had an affair with Janet and might have even sired one of her children.
"Janet's husband was suspecting that one of the children he was taking care of was not biologically his. He was suspecting I was the father," said Chege.
Kirubi, however, did not comment on the statement by his nephew. "I'd rather not comment… If there is such an issue, I trust the police will uncover it," he told The Standard yesterday.
But Chege denied any romantic involvement with Janet.
"We were seated in the car; chewing 'miraa', when six men approached us. I would have opened the window, but when I saw one draw his gun, I tried to drive off, but it was too late," said Chege.
On Saturday May 19, a day before the shooting, Chege said he received a call from Janet at around 3pm. She, apparently, called to request him to pick her up so they could hang out, since her car had broken down.
Naivasha trip
"I proceeded to pick Janet and we went to Pangani. We bought some 'miraa' and parked the vehicle near Pangani shopping centre at around 7pm till about 5am the next day. Janet requested that I take her back to her place because she was supposed to release her house girl," narrated Chege.
Chege said they, however, agreed to change course after a friend asked them to accompany him to Naivasha, offering to fuel their car.
"We went to view point area and watched the sunrise, took pictures and selfies and started our journey back at round 6am," he continued.
He said Janet was reluctant to go back home, as she wanted to finish up her miraa, prompting their decision to move to City Park. That is where Janet met her death. He narrowly escaped death.
"The last person I called was my cousin Ann Kahiu. I asked her to come quickly at City Park area," he said tearfully.
Ann said she met Chege at the emergency room at Avenue Hospital. He had two bullet wounds; one on the hand and the other at the back.
Even though Chege was shot at the back, his shirt did not have bullet holes.
His mother Faith Wangeci said she was leaving church at 11am when she received news of the shooting.
"The police officer went ahead and said that a call was made concerning a suspicious vehicle parked within the park and he was among individuals found at the scene," she said.