Ruto allies frustrating Uhuru, Raila in war on corruption – Meru leaders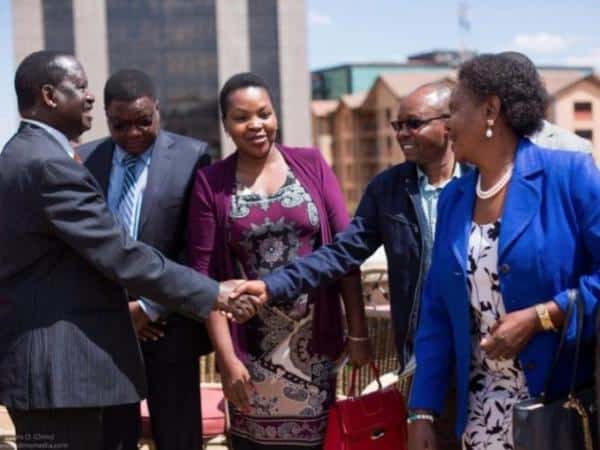 A group of Meru leaders has accused Deputy President William Ruto's allies of frustrating President Uhuru Kenyatta fight against corruption.
The leaders, drawn from Meru and Tharaka Nithi counties, derided Ruto's tanga tanga movement for "using churches to blackmail Uhuru and NASA leader Raila Odinga".
Former Education Assistant Minister Kilemi Mwiria made the allegations in an address to the press on Tuesday after a meeting at Raila's Capitol Hill office in Nairobi.
He spoke on behalf of about 36 current and former politicians and civil servants. Raila did not address the media.
Without giving names, Mwiria claimed: "We all know people who are sabotaging the fight against impunity. The first team is led by URP members who want to defend one of their own. We have also seen some notorious Mt Kenya leaders fighting our President for fighting impunity."
In apparent reference to politicians' donations to churches, Mwiria noted that they are "a place of God so people should not use them to push a bad agenda".
He said corruption activities should not find their way into churches.
"We ask our colleagues, especially some notorious MPs from Mt Kenya, to stop insulting Uhuru and Raila. We are with our people while they are with the criminals," he said.
The group asked Uhuru to crush "the merchants of corruption" so that the country can focus on the Big Four Agenda.
Mwiria's delegation said corruption will destroy Uhuru's legacy if it is not stopped.
The team also asked Uhuru and Raila, who agreed on May 9 to work together for Kenyans' sake, to ensure the causes of electoral violence and historical injustices are addressed.
"We know some Jubilee leaders have shown discomfort and are openly fighting Uhuru. Let those who support impunity know they are on their own," Mwiria said.
The politicians said they want Uhuru and Raila to visit Mt Kenya to explain the benefits of their handshake to locals.
"It is time Uhuru cleansed this nation and stopped listening to people who want to derail the spirit of the handshake as well as those who want to derail the fight against impunity."
The leaders told Uhuru that following the unity deal with Raila, he has blessings and state instruments to punish lords of graft.
"Kenyans know we finally have a united leadership that will end the political challenges the country has been facing," former Meru governor aspirant Winnie Kaburu told reporters.
Asked if they will support Raila in 2022, the politicians said they will consider all their options.
"It is too early. When the time comes, we will have a menu to choose from," they said.