Sonko makes his Threat real as demolition on marble arc parking lot commences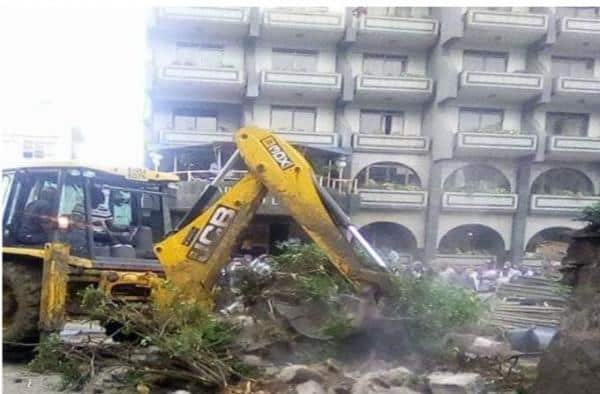 Nairobi earth moving heavy bulldozer swung into action to clear land adjacent to Marble Arc Hotel moments after Nairobi Governor vowed to teach the Billionaire that demolished Kayole structures on a twenty acre controversial property a lesson he will never forget.
The Governor Mike Sonko further gave the owner Mike Maina 14 days notice to demolish the 3 star hotel he claims that it's on a grabbed Nairobi fire services Property, failure to that, the City will bring it down.
This may be a beginning to unearth other shady deals that are believed to have been done during the Nyayo era and if the Governor is sincere on unearthing grabbed properties in Nairobi and elsewhere, it will uncover many others owned by powerful individuals.
Relatively known Mike Maina has not commented on the action and it will be interesting to note if he will take the matter to court to defend the demolition of the hotel.
If the same was acquired legally, he may win the case but if there were irregularities, the 700 million Hotel will be pulled down.
That will be a clear warning to those that have grabbed public property to be aware that it can take even twenty years to reclaim such but one day a regime will come into power with a mission to clean the mess done by past corrupt politicians and businessmen alike.
Mike Maina's action all the same needs to be condemned for the few who know his past will narrate a rags to riches story as his beginnings were pathetic having been a petty thief, sort thief, and a one-time soup maker at Dagoretti Market, then later rising to the super league parvenu(sic) in a short span of time.
That man with a pathetic beginning and having tasted real hissing poverty at one time was the last person many expected to do such an evil action against the poor people by making their life miserable when many were getting ready to celebrate the birth of Christ.
It's payback time as many are now saying for you ain't seen nothing yet since marble Arch is just a beginning.
D. GITAU
KENYAN PARENTS IN USA