How Pilot of Ill-Fated Plane Saved Rescuers Seconds to His Death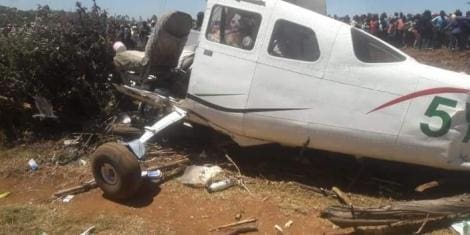 The pilot of an ill-fated aircraft that crashed and killed five people, on Wednesday, was keen to save rescuers at the scene moments before his death.
Kevin Mwanza Mutava was the navigator of the Cessna 206 registration 5Y-BSE that crashed in a private farm in Londiani. Mwanza directed his would-be-rescuers to steer away from the wreckage, warning it could explode.
Josephat Kimutai, a tractor driver working at the farm, was among those who rushed to the scene after the accident occurred.
"The pilot was stuck in the wreckage but he was still alive although badly injured. He told us to keep off, saying the plane could explode into flames.
"We, however, tried to remove them but they succumbed to their injuries while still trapped in their seats," the farmer recalled.
Kimutai had seen the plane as it appeared to lose control until the pilot unsuccessfully tried to make an emergency landing in Kamuingi One Secondary.
According to witnesses, Mwanza was seen waving his hands to scatter the students who had now come out to watch the plane before he crash-landed.
The plane crash cost the lives of an American family of three who were on holiday and were coming from a two-night vacation at Maasai Mara.
The three died alongside the pilot and an unidentified man.
How Pilot of Ill-Fated Plane Saved Rescuers Seconds to His Death