Bungoma man who hung on chopper injured after falling off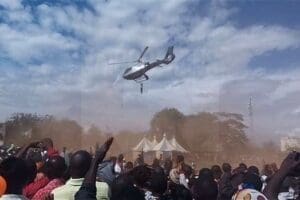 Bungoma man who hung on chopper injured after falling off
A man is fighting for his life at Bungoma Referral Hospital after jumping off a helicopter carrying the body of businessman Jacob Juma on Friday.
Sale Wanjala, 41, had hung on the chopper from Bungoma Posta Grounds as it took off after a public viewing of the body.
Mr Wanjala, a casual labourer, was seen hanging on the helicopter as it flew away from the grounds, prompting desperate mourners to shout and frantically wave at the pilot to land the aircraft and save him.
However, the pilot could not hear the shouts and flew away with the man holding tight to the the chopper's tabular landing skids.
The helicopter had delivered Mr Juma's body at the grounds instead of Kanduyi Stadium as had been scheduled for public viewing.
"I was sitting at the landing skids while the crowd milled around the chopper. Suddenly I realised the chopper was taking off and my foot was stuck. By the time I was freeing myself the chopper had already gained momentum and decided to hang on to wherever it was going," Mr Wanjala said at his hospital bed.
The aircraft flew to Bungoma Airstrip and he decided to let go of the skids and jump off. He sustained injuries on his hip, legs and hand.
An ambulance that was accompanying Mr Juma's hearse rushed him to the hospital where he is currently receiving treatment.
According to clinical officer Leah Atsewa, who attended to him, Mr Wanjala was under the influence of alcohol.
"We have examined him and he has no serious injuries only that he has a dislocated hip and bruises though we realised that he was reeking alcohol," she said.
Mr Wanjala's sister Leah Nelima told the Nation: "I received a call that my brother had jumped from a helicopter and had sustained head injuries that forced me to rush to the hospital to see for myself".
Mr Wanjala had two wives. His first wife died a few years ago and he later separated from his second wife.
He had six children. Only one, aged 17, is alive.
-nation.co.ke