The wedding of the year in Kenya between Paul Muchene & Cecilia Kamatho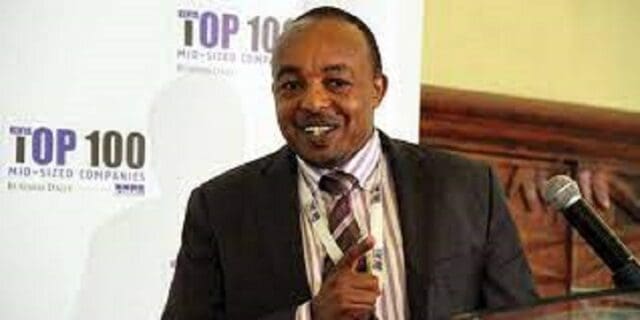 The wedding between Paul Muchene Kinuthia and Cecilia daughter of former Kanu Secretary general Hon. J.J. Kamotho. The wedding was held at St Austins church inside St Mary's boys on Saturday 21st November, 2009. The sermon was led by FR Moses K. Kago.The best couple were Joseph Theuri and Susan Theuri. The MC of the whole even was Mogaka an actor with Vitimbi group. The Matron of honour was Agnes Gakungu. Under police escort were over 7 Range rovers sports most of them black. Over twenty Mercedes were behind the convoy. There were several security bouncers who kept a watchful eye in church and on the way and reception.
The tents looks like a small village at the reception where they hosted more than 4,000 guests and comedians from all walks of life
Many people attended, two tents were erected outside the church with big screens to avoid some guests missing out on what was going on in the church. Over 4,000 guests attended the wedding where they were all fed with mineral water by Loita Springs water Ltd packed with over 10,000 bottles. The water bottles were labelled with Paul's and Cecilia's photo which surprised many with this expensive venture. Kids were also taken care of with about four bouncy castles, a food point full of chips and assorted crisps as well as soft drinks. Food was not an issue. There were over ten food service stations where you could get anything of your choice.
The company Interconsumer had goodies for all the visitors and all the ladies were give assorted nice and lovely body lotion as well nice and lovely petroleum jelly. Verseva and Verman sport perfumes were also given for free only for those waited until the cutting of the cake. At the entrance there was a tent that was selling the couple's products. The sale and marketing manager Mr George Ngigi together with The customer service manager Esther Kilonzi were at the tent making sure all the products were available as well as monitoring the smooth running of guests at the entrance.
A bull was slaughter and grilled with the latest technology ever witnessed in recent times by J's Grill. It was an Ox grilling machine that was imported from Germany. Speaking to the owner Jacqueline Anampiu, she said she got the idea when she visited Germany over summer time and got them doing the grilling. Asked about how much it was to hire it she said. "it only cost forty thousand for the machine and labour plus additional two hundred shillings per kilo is charged of the cooked bull." At this wedding the bull was five hundred kilos and took about 9 hrs for it to be well done. The machine is then towed using a Range rover.
At the reception there were TV screens because you could not see the front due to the distance and the number of the guests at the venue. Speaking to one of the officials, he said the wedding was costing 6 million shillings on the day and no doubt it was worth it. After the wedding the bridal party together with friends headed to Jockey club at Ngong Race Course for mugithi and more refreshments. Spotted guests included Hon Beth Mugo, former Naivasha MP Jane Kihara and Kinangop MP Hon David Ngugi. This year has been the best for Paul Muchene Kinuthia. Other achievements in the year has been that his company Interconsumer Products Ltd joined club 101 after having a turnover of over 2 billion a year. He has launched new products in the market namely Versman and Verseva which is said to have hit the market as the cheapest and affordable perfume for wananchi, He also become a Warrior at the Marketing Society of Kenya event and now he has joined the club of the married. How better can it get for Paul. For security reasons they refused to reveal where they were headed for their honeymoon. The cost of the day was over Kshs. 6 million
Source-Misterseed.com
The wedding of the year in Kenya between Paul Muchene & Cecilia Kamatho