Martin Shikuku had dug his own grave and bought a coffin
Martin Shikuku had dug his own grave and bought a coffin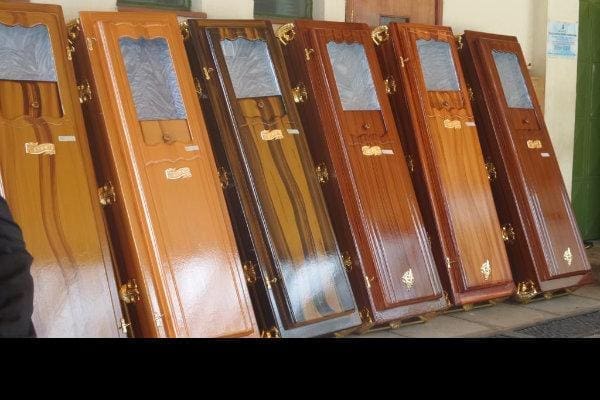 It is 11 pm Wednesday at the home of the late veteran politician Martin Shikuku, the night's silence only broken intermittently by the chirping of birds from a nearby tree.
There are only three relatives sited in the living room of the former MP's house as they warm themselves around the charcoal stove.
Melancholic mood is written all over their faces as they slowly try to come to terms with the death of Mr Shikuku. The veteran politician succumbed to cancer at a Nairobi hospital on Wednesday where he has been undergoing treatment.
Mr Shikuku will be remembered for having prepared for his death way before when he dug a grave and bought a coffin to ease the burial expenses for his family.
Interestingly, the late Shikuku also dug a grave and bought a coffin for his wife which he stored in their Bungoma home.
The graves were dug almost 50 meters from the main house. One side of the grave yard has been surrounded by a brick wall. In the middle is the grave where he will be buried and it is already labelled J M Shikuku, perhaps to avoid confusion.
On the left, is where his second wife Beverlyn Ongecha Shikuku was buried in 1993, while the one on the right is meant for his surviving wife clearly labelled Fridah N Shikuku.
On the extreme left is a fresh grave of his daughter who died a fortnight ago. Mr Shikuku did not attend the burial as he could not make it out of his hospital bed.
According to one of his nephews, whom the Nation managed to talk to on phone from Rwanda, the deceased left a set of instructions that have to be followed.
Joseph Madanji claims that Shikuku warned against political speeches during is burial because the Kenyan politicians had not done anything to help him after he left parliament.
"My uncle was so disappointed in our politicians and government at large because they did nothing to cater for his welfare despite the fact that he was amongst the second liberators of the freedom in the country," said Mr Madanji.
Mrs Clementine Oyondi, an in law to the late MP, was so overwhelmed with emotion that it took him time to respond to the journalists.
"As relatives, we have lost an important person who was the kingpin of this family," said Mrs Clementine.
A niece to the former MP Eunice Nekesa noted that they have lost a great uncle who was always there to give them moral advise in life.
Mr Shikuku served as legislator for Butere until 1997 when he was toppled by Dr Amukowa Anangwe. He also served as an MP in the legislative council.
Source:nation.co.ke