Video: Kenyan who works with the endangered Bambuti (Pygmy) of Congo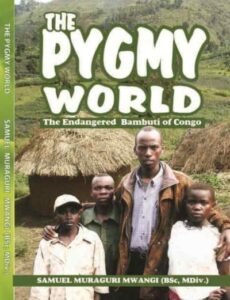 PIPES International is a Christian nonprofit organization that is reaching out to indigenous people groups and marginalized communities in East Africa to alleviate poverty by empowering communities and initiating sustainable social-economic programs. We believe in reaching out by word and deed. We are currently involved in resettlement, education,small business entrepreneurship and advocacy among the Bambuti communities in south and north Kivu in Eastern Democratic Republic of Congo.
PIPES International as a mission agency is dedicated to working with Bambuti communities to extend opportunities and hope by tackling the causes of abject poverty and historical injustices. PIPES International's efforts reach out to the forest people in the most remote corners of DR Congo where there is no other help.
We believe that the marginalized and underprivileged communities like the pygmies can improve their lives and free themselves from the cycles of abject poverty given right opportunities, training and proper guidance. The poor who are mostly regarded as lazy are however hardworking yet underpaid and exploited. They are often voiceless and the government systems have no place for them.
In Congo for example, these poor people are dying due to: increased malaria infections, hunger, and severe malnutrition among children, killing by militia groups, rapes, environmental degradation and civil wars. These problems that confront the already poor community have denied them a great opportunity to participate fully in making their contribution to society. This has largely occurred due to poor governance and leadership, bad policies and a lack of involvement of the poor in making decisions that affect their lives. The situation is compounded by social and economic inequalities that are aggravated by lack of political good will to change the status quo.
The founding of PIPES INTERNATIONAL has been a journey. It started back in 2003 when Samuel  Mwangi (The Author of Pygmy World:The Endangered Bambuti of Congo and founder of PIPES International) travelled to Goma town in Democratic Republic of Congo (DRC) for a Christian leaders' conference that was organized by World Vision. Together with a group of 8 other Kenyans. The team inspired Congolese Pastors and other Christian and opinion leaders to spearhead the healing of the war torn vast country.   It was during interaction time that Samuel rekindled his mind and asked about the short forest people (pygmies) that he had read about during his high school days. Initially it was out of curiosity that Samuel wanted to see the pygmies. Finally in August 2004, during his third travel to Congo he managed to meet face to face with the poorest of the poor. Traveling through the jungle was a nightmare but the determination would not stop him. It was in this visit that Samuel in a company of two other Kenyans John and Rebecca saw and shared experiences with children who had never been to school, old men who had never changed their clothing and woman who had been raped by the rebel soldiers and Bambuti families whose relatives had been eaten by Interahamwe soldiers in the thick forests.
What Samuel thought would be a fun adventure turned out to be a tearful day. He sobbed to see dying mothers and children due to malaria and cold. He saw desperate faces of men who could not provide for their families. He saw people angry at the government, society and church. He saw alienated people, ironically the ancient settlers of DR Congo.
Inspired, Samuel returned back to Kenya, determined to do something to address the plight of the pygmies. He returned with clothing and food but that was not good enough.   He researched during his Master of Divinity program at African International University in Nairobi and identified social needs as hindrances to development among the Bambuti communities.
For a few years, Samuel led teams to DRC to help in some projects and training in partnership with churches and faith based organizations.  In 2009, Samuel founded a non-profit to help resettle and educate Bambuti pygmy families in Eastern DRC. Currently, PIPES International has a school in Mugunga in the outskirts of Goma town where 120 Bambuti pygmies study.  The organization has three full time teachers, two social workers and two pastors working directly with Bambuti pygmies. PIPES International believes that education is central to sustainable development, and as such, invests in educational infrastructure and programs to empower students, teachers and parents.
PIPES INTERNATIONAL is determined to make an impact and transform the lives of hundreds of pygmies who are scatted in different parts of Congo forests without any help.
THE PYGMY WORLD: THE ENDANGERED BAMBUTI OF CONGO