Kenyan woman named top 10 contender for prestigious CNN Award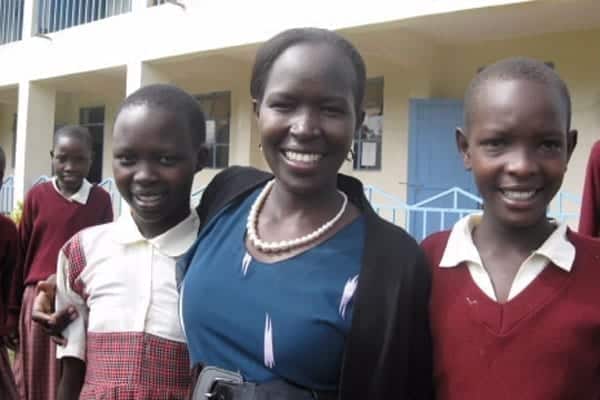 Kenyans and other well wishers around the world have until this Sunday to vote for a Kenyan woman who has been named one of the top 10 contenders for the prestigious 2013 CNN Hero of the Year Award.
Kakenya Ntaiya beat hundreds of other nominees to make it to the top 10 for what the award panelists have termed as "her extraordinary work of empowering young girls in her native Kenyan village".
Ntaiya, 34, made it to the list for her exemplary effort of educating girls in her Enoosaen village in Transmara, Narok County.
After becoming the first woman in the village to earn a university degree in the United States, she returned to open the first primary school for girls in the area.
Today, Ntaiya helps provide an education to over 150 girls at Kakenya Center for Excellence boarding school.
Her efforts have not gone unnoticed for in October this year, she caught the eye of the CNN Hero-of-the-year judges following a highly competitive short-listing process.
Each year, the media giant honours everyday individuals who are making extraordinary contributions to help improve the lives of others.
On Monday, Ntaiya arrived in the US in readiness for the award ceremony slated for December 1st in New York.
"I am so excited about this. It's a step towards the realisation of a dream that all girls in my village would one day go to school," she told the Nation in Washington Wednesday.
FACED MANY CULTURAL PREJUDICES
As a young girl, she faced many cultural prejudices but has risen to become a role model for many girls across Africa and beyond.
To a casual observer though, her early life story could easily pass for just another narrative of the struggles of a poor Maasai girl.
Just like her peers, she was betrothed at age 5 and circumcised at age 14 but all along, she harboured a strong desire of becoming a teacher.
"I thought it would be nice and easy to just stand in front of children and write on the board," she told the Nation in Washington DC Wednesday.
"But before undergoing female genital mutilation (FGM), I had to negotiate with my father. I gathered courage and told him I would agree to the ritual on condition that he would let me complete my studies," she said. The father agreed, albeit reluctantly.
For generations, FGM has been a rite of passage for every Maasai girl and has continued despite the government's efforts to stop it.
The procedure is commonly based on religious and cultural beliefs, including efforts to prevent premarital sex and marital infidelity.
The nod from Kakenya's father set the stage for her long journey, which saw her spend a decade in the United States and earn a PhD in the process.
She received her Doctorate in Education in 2011 from the University of Pittsburgh, Pennsylvania.
FIRST YOUTH ADVISER TO UN POPULATION FUND
As an undergraduate, she became the first youth adviser to the United Nations Population Fund, travelling around the world advocating for girls' education.
She opened the school in May 2009 and it currently has 155 students in grades four through eight.
The facility is supported by the Kenyan government and well wishers and it has become a beacon of hope to the girls and parents in Enoosaen.
"It is my firm belief that education is the best way to empower and motivate young girls to become agents of change in their community and country," said Ntaiya.
The mother of two boys was honoured with a Vital Voices Global Leadership award in 2008 and as a National Geographic Emerging Explorer in 2010.
She was named one of Newsweek's "150 Women Who Shake the World" in 2011. Her story has been the subject of a Washington Post series, a BBC documentary, and many magazine articles.
Since its inception, the CNN Award programme has received over 50,000 submissions from more than 100 countries and profiled over 200 heroes.
This year, the winner will receive $300,000 (over Ksh 25 Million) for furtherance of the cause.
Apart from Ntaiya, the only other nominee from Africa is Georges Bwelle from Cameroon.
"We are proud to share the stories of these 10 exceptional individuals, and to continue one of CNN's most important traditions," said Jeff Zucker, President of CNN Worldwide, in a recent media briefing in Atlanta.
To vote for Kakenya Ntaiya once every day until Sunday midnight CLICK HERE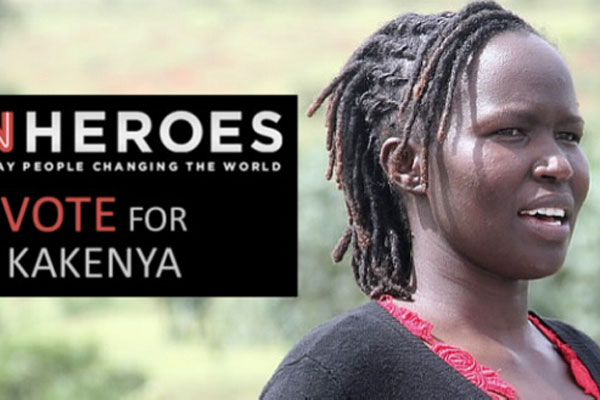 Source-nation.
Kenyan woman named top 10 contender for prestigious CNN Award