Kenyans through to Main Cup quarters at Dubai Sevens
Kenyans through to Main Cup quarters at Dubai Sevens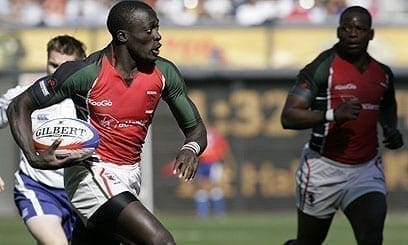 Kenya got off to a flying start in the IRB Dubai Sevens, beating Portugal 10-7 and France 14-5, to book their place in the Main Cup quarterfinals.
The match against Portugal was a scrappy affair. Kenya struggled to find their footing despite winning the kick off. Anxiety by scrum-half Mike Wanjala saw him knock on and gift the possession to a very physical Portugal.
The early initiative by Kenya was cancelled by Portugal who came back forcefully and pinned Kenya in their own half. The Portuguse then camped in Kenya's 22 but were unable to score before Andrew Amonde knocked on the ball and surrendered possession to Portugal.
Kenya then took the lead when Oscar Ayodi powered his way to the line for an unconverted try and a 5-0 lead. Biko Adema missed the conversion
The Portuguese stretched the Kenyan defence in the second half and it came as no suprise when Aderito Esteves touched down with playmaker Pedro Leal kicking over the conversion for a a 7-5 lead to the Portuguese.
Kenya coach Paul Treu then emptied his bench bringing in Felix Ayange, Leonard Mugaisi and Eden Agero to try and salvage the game . Collins Injera took matters into his own hands picking a pass from Agero to run unchallenged and score at the corner to give Kenya the win.
In the second match against France, Kenya started tentatively trying to probe as they looked for gaps in the French defence. The French kept possession with Julien Candelon and and Vincent Martin looking dangerous with ball.
Kenya then scored against the run of play when Injera saw a gap and sped past the static French defence to score at the centre.  Adema converted for 7-0 .
Kenyan physicality dominated the breakdown and wore down the French. On resumption Kenya outmuscled the French at the ruck and from the loose ball Horace Otieno galloped his way to the tryline. Adema added the extras for a healthy 14-0 score. Kenya cwere penalised by the referee for an infringement and from the next move Candelon scored a consolation try for the France.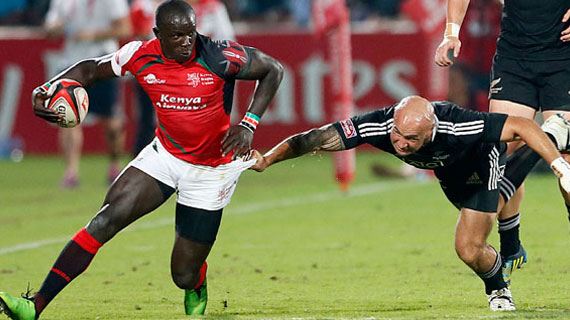 Kenyans through to Main Cup quarters at Dubai Sevens