Firms seek Kenyans in diaspora for jobs at home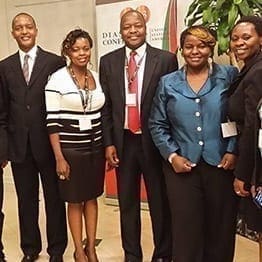 The Kenya Diaspora Conference has been praised as one of the best organised events this year.
For the first time, a job fair was featured to showcase employment opportunities in Kenya and Africa as a whole.
General Electric and Barclays Bank conducted a recruitment exercise during the event that ran from December 12-14.
"This is a huge confidence boost for the diaspora because it shows that they count and have something meaningful to offer.
"It is a big win for them and it guarantees attendance in future conferences," said Prof Kefa Otiso, a member of the planning committee.
The Kenya Commercial Bank and Kenya Diaspora Sacco also signed a deal that seeks to improve the economy back home.
"We envision a great relationship that will see our members reap from great investment ventures for investment and development purposes.
"The overall success of this venture will see an organised Kenyan diaspora improving their country's economy," said Mr Raph Kilondu, treasurer and board member of Kenya USA.
Officials told Nation.co.ke that the conference differed from past events to offer a unique experience to participants.
"The feedback we got from the previous conferences was that a lot time was spent on long speeches so we made a decision to offer more time and space for deliberation and discussion on a variety of topics," said Jean Kamau, Chief of Missions at the Kenyan embassy in Washington, DC.
Prof Otiso added: "If there is one thing we learnt from the previous conferences it is that the conference should be diaspora focused.
"This means that people want to engage and discuss issues that are of interest to them such as investment opportunities in Kenya, education, career development and voting rights," he said.
The conference that is usually held in October was also scheduled to coincide with [email protected] celebrations in honour of the country's achievements.
"When I came for the Jamhuri celebrations on Friday and saw all those Kenyans having a good time, I decided to attend the conference," said Milka Agal, a Kenyan from Allentown, PA.
Ms Jennifer Gachui, co-owner of Kenyans Connect, said the 2013 conference took a life of its own.
"It has been an amazing conference. Intense but different from most conferences.
"The plenary sessions were not as boring as most of us had expected and the discussions in the breakout sessions were very illuminating," she said.
Ms Gachui, whose company hosts Kenyans during the Las Vegas Safari Sevens rugby tournament, noted that the event also offered "new knowledge on investment opportunities back home."
Sponsors of the conference included the Kenya Commercial Bank (KCB), Commercial Bank of Africa (CBA), General Electric (GE), Aberdare Hills Golf Resort Naivasha, British Airways and UAP.-nation.co.ke