Another success story of a Kenyan Diaspora-Bush Wamukota

Another success story of a Kenyan Diaspora-Bush Wamukota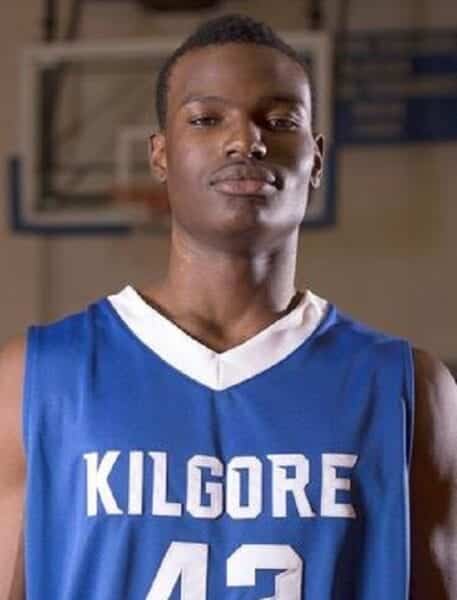 Just few days ago we brought you a story of David Wachira,the exemplary alumni who gave over $4,000  of his first paycheck to help other graduates to finish their studies.Here is another success story of Basketball player Bush Wamukota, a Kilgore College sophomore who takes nothing for granted.
Not the rim in Masters Gym, not the shoes on his feet, not even the ball.
"Only a few years ago I was playing outside with flip flops and a bicycle rim (for a hoop)," said Wamukota, who learned to play basketball with a paper ball.
Born and raised in Kenya, Wamukota never played organized basketball until his senior year of high school.  Growing eight inches in 18 months, The seven footer had an unlikely opportunity to leave his home country and play basketball at Wiley College in Texas.
"My friends at Wiley saw me play and said you have a lot of potential and could be really good and should play at a higher level," said Wamukota.
Wamukota had his sites set on Division One hoops. Without enough credit hours, he was encouraged to find a junior college program.
"Most of the junior college's called me and I told them 'No, I don't want to go,'" said Wamukota.  "Most of them gave up but the coach here at Kilgore kept calling me and calling me."
Coach Brian Hoberecht's persistence paid off. Wamukota made a visit to Kilgore, and wanted to stay.
"He's got a great mind for the game of basketball," said Hoberecht.  "He's a good student off the floor. He understands how to learn and grow. Those things have helped to adapt to the game of basketball quickly which is given him an opportunity most kids in his shoes are just dreaming about."
With only a couple years of basketball under his belt, Wamukota is a starter for the No. 2 ranked junior college team in the country.  As if the story can't get any better, the inexperienced big man has signed with one of the top Division One program's in the country, Wichita State.
A Final Four program last season, that is currently ranked No. 6 in the country.
"The sky is not the limit for me," said Wamukota with a smile.  "I go way past the sky. The only thing you can do is get better everyday. I'm ready to work hard so when that time comes on the big stage I'll be ready."
Wamukota hopes to one day play pro basketball, but his number one goal is to earn his degree, and bring hope back to his home community in Kenya.
"The town where I'm from we didn't even have basketball court," said the future Wichita State Shocker.  "I had to play on trees and stuff like that. So I just want to go back and give back and serve so they can have somebody to look up to."
Source-kltv.com
Another success story of a Kenyan Diaspora-Bush Wamukota