Video:Ruto back from The Hague,Meet With Kikwete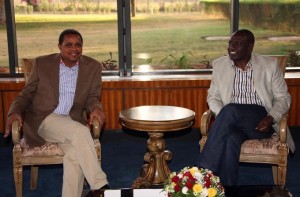 NAIROBI, Kenya, Jan 24 – Deputy President William Ruto arrived back in the country on Friday morning from The Hague, where he has been attending his International Criminal Court trial.
On arrival at the Jomo Kenyatta International Airport, Ruto held a brief meeting with Tanzania's President Jakaya Kikwete who had made a stop-over in Nairobi.
Ruto was in The Hague for three days after the court granted him excusal from continuous presence during his trial.
The trial will continue on Friday in the absence of Ruto who will to be represented by his counsel.
The defence will continue cross-examining Witness P0356 who took to the stand on Tuesday.
The trial against Ruto and former Kass FM presenter Joshua arap Sang was earlier scheduled to start on January 8 but was postponed by three days after the ninth witness failed to show up.
The trial has faced several interruptions due to late presentation of prosecution witnesses. The prosecution has maintained that it has faced challenges as witnesses were withdrawing due to intimidation.
On the other hand the defence has contended that the ICC coached witnesses to fix them and complained that they have been lying before the court.
Since the trial against Ruto and Sang kicked off on September 10 last year, the prosecution has dropped several witnesses after some of them admitted that they had lied to the court. Others were unwilling to testify.
The case against President Uhuru Kenyatta seems to have taken even a more dramatic turn after ICC Prosecutor Fatou Bensouda said she has no evidence against Kenyatta and requested for more time to do further investigations.
The ICC judges on Thursday suspended Kenyatta's trial indefinitely and instead scheduled a status conference on February 5 to discuss the next step.
Bensouda in her application explained to the court that three key witnesses had withdrawn.-capitalfm.co.ke