ICC witness reveals how Kikuyus were threatened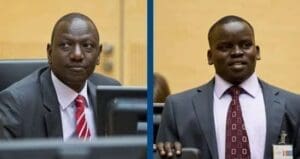 NAIROBI, Kenya, Mar 5 – The 13th witness testifying in the case against Deputy president William Ruto and Joshua arap Sang at the ICC has told judges that Kalenjins told Kikuyus that they would kill them and package them in a container (gorogoro) for former President Mwai Kibaki to use them as fertiliser in his tea or coffee farms.
He said Kalenjin youths who had erected about eight road blocks between Kapsabet Police Station and Eldoret Town also referred to them as black snakes.
"Before, we had been told to tell Kibaki to build a big house in Othaya because all of us would go to Othaya. At the roadblock we were told they had a container where we all would be put after being burnt and sent to Kibaki," the witness explained.
He said as some of the rowdy Kalenjin youths lay in the middle of the road telling Kikuyus off. Some women stood about three metres away cheering and joined the men in referring to them as black snakes that deserved to be killed.
"The youths were telling us, you snakes go to your place in Othaya… today is your lucky day. The women admonished us and referred to us as black snakes of Kibaki. A snake means we were their enemies and snakes are supposed to be killed whenever they are seen," the witness explained.
The witness who informed the court that he was in a convoy of vehicles found about 4,500 other Kikuyus, Kisiis and Kambas gathered at the Kapsabet Police Station where he stayed for three days.
At the Kapsabet Police station, the witness said there were people with deep machete cuts, arrows stuck in their bodies while others had other injuries on their bodies.
From Kapsabet Police station, the witness told the court that their plan to travel to Nairobi was cut short on arrival in Eldoret Town where the area District Commissioner told them that they could not proceed to Nairobi as there was violence ahead.
They were then driven to the Eldoret showground where they met other people especially Kikuyus displaced from Kimumu, Huruma, Kamukunji, Manyaka, Kiplombe, Burnt Forest and Timboroa.
He narrated to the court that along the road they encountered armed youths with some dressed in Orange Democratic Movement (ODM) colours, others wearing green and white bandanas.
According to the witness, the young men at the roadblocks also had folded their trousers to the knee on one leg to help them identify people from friendly communities like the Luo, Luhyas and Kalenjins who were ODM supporters.
"The youths had folded one side of the trousers to the knee to help identify each other, so that that they could not hurt Luos and Luhyas. Some youths had worn scarves of different colours – some with green scarves and others white scarves," the witness claimed as he explained that they were able to pass the roadblocks because of police who were giving them security.
Earlier on Wednesday, the witness explained to the court that he heard Sang in his radio show congratulate Kalenjins and people from Kakamega for doing a good job.
According to the witness, the good job meant fighting for their right and demonstrating against alleged election rigging during the 2007 General Election.
The witness told the court that Sang told Kalenjins to hold demonstrations to protest against election rigging and told them that he did not see the reason why people were in their homes yet their rights had been taken a way.
The witness said after Sang's announcement, people gathered and marched to Eldoret town where they were addressed by a local, Elijah Lagat, who echoed Sang's remarks.
The witness told the court he had seen and heard Lagat telling people to attend a rally to discuss how they were going to deal with the election that had been rigged.-capitalfm.co.ke