Uhuru to shake up NIS in major security changes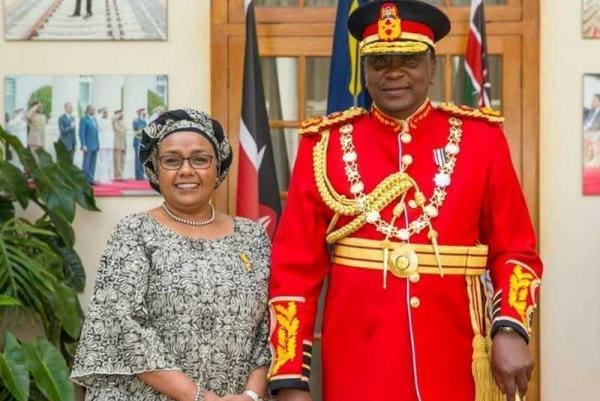 President Uhuru Kenyatta has promised far-reaching reform of the country's security to better protect the public from terrorism, according to the accountability documents he has filed with Parliament.
One of the actions he wishes to take is a what he described as "a shake-up" of the National Security Intelligence Service.
He also promised to "enhance and invest in the specialist anti-terrorism unit with professional expertise to tackle groups such as Al-Shabaab".
The President also hopes to have passed a new Prevention of Terrorism Act "to give the police and other security forces powers to keep Kenya safe and ensure no Kenyan is unfairly targeted or harassed".
A new security agency, whose job will be to patrol and secure the national borders will be formed and its officers deployed in counties that are close to borders.
These measures are contained in one of the three reports that the President tabled, as required by the constitution, on Thursday.
He is required to present to Parliament reports on national security, national values and foreign relations once a year.
In addition, the President said he will to expand the National Police Service by hiring 15,000 police officers every year over the next five years. These officers will be given modern equipment to combat crime.
Mr Kenyatta also want to demystify security budgets and make them open to scrutiny "to promote transparency, eliminate wastage and guarantee quality and value for public funds".
The proposed reforms are likely to well-received not just by the public which is worried about terrorism, but also by the professionals in the security sector, according to a Kibaki-era official with knowledge of security issues.
Intelligence gathering, policing and border security are in desperate need of investment and reform to put the country on a war footing, the official said, adding that with troops fighting in Somalia and Al-Shabaab operatives in the country, Kenya was at war.
Runaway corruption
Runaway corruption among registration and immigration officials makes it easy to buy citizenship and infiltrate the country.
The Narc administration had a hard time passing an anti-terrorism law, which was strong opposed by Muslims, the retired official pointed out.
He said he hoped the old approach of personnel changes "at the expense of substantive reform" would not be repeated.
The former official was possibly referring to musical chairs, mainly at the top of the police force, where the appointment of a re-fashioned boss, as the Inspector-General, has seen a worsening, rather than improvement of, the crime situation.
In his report, the President said he would "strengthen the Independent Policing Oversight Authority to provide capacity to investigate instances of corruption and harassment with the power to suspend officers" and recommend that they be charged in court for various offences.
The President also said he wants to create a command that would ensure all security agencies work together and to "establish functional linkages though training and command structure of various disciplines of the armed forces".
The military's handling of the Westgate response, including claims of looting, appalled the public and was described by one former army General as demonstrating command incompetence.
One of the criticism of the deployment of the military at Westgate was that the military and the police had not trained together to respond to terror situations, leading to the rescue fiasco.
There has also been speculation for months that the Kenyatta State House is contemplating the formation of agency similar to the US Department of Homeland Security.
The former official would not be drawn into a discussion of either the military of the "eight odd intelligence" groups in Kenya, other than to note that the police are "either unable or unwilling to exploit intelligence" and NIS is legally too weak to act on its investigation.
Kenyan spies were barred by the law to be armed until last year. Because of its history of torture and brutality as Special Branch, NIS has no authority to arrest anyone. They spy and "take the information to the police, who often ignore it," according to the official.
In his report, Mr Kenyatta criticised the criminal justice system, saying its various units did not work in harmony, thus contributing to insecurity. He said the police, the Judiciary, prosecutors and prisons fail to jointly deter and punish criminals and terrorists.
The far-reaching proposals were unveiled at a time when the country faces serious security challenges posed by Al-Shabaab and armed criminal gangs that perpetuate murder, robberies, drug trafficking, kidnappings and carjackings.
On Sunday, a hand grenade was found in a church in Mpeketoni, Lamu while in Eastleigh, Nairobi, a suspected terrorist died when an explosive device he was assembly blew up in his face. Eight days ago, six people were gunned down in cold blood when three hooded men walked into a church and opened fire on worshippers in Likoni, Mombasa.
According to the report that Mr Kenyatta tabled in Parliament, 126 people have been killed and 132 injured in attacks perpetrated by Al-Shabaab, the Somalia-based terror group with cells in Kenya. Over 400 suspects have been arrested and many of them are facing terrorism-related charges in different courts.
On deployment, 51, 311 officers were sent to guard vulnerable premises and vital installations and an 1,041 others stationed at entry points.
"The government is committed to keeping Kenya safe and secure through strengthening of security forces, fighting crime and terrorism and promoting national cohesion and building a secure country for all," says part of the report, which also acknowledges that security agencies have been underfunded over the past 20 years.
Among the proposals in the report is to increase funding to the Anti-Terrorism Police Unit, improve the training of its officers to the highest standards and pass a new anti-terrorism law.
According to the report, Mr Kenyatta is banking on Parliament to assist in the fight against insecurity by reviewing the necessary laws.
Some of the difficulties the government has identified as contributing to insecurity include high unemployment among the youth and the financial limitations and weak coordination of security agencies.
On funding, the President said: "Limited financial capability due to competing national priorities has made it challenging for the government to allocate adequate resources for the security sector which has been underfunded for the past 20 years."
On criminal justice system, the report says: "Addressing security has been hindered optimally by lack of effective coordination starting with law enforcement, prosecution, the Judiciary and correctional services. Consequently there have been cases where crimes have not been properly processed, leaving suspects and culprits among communities."
Poaching and radicalisation of youths was also put on the spotlight among security concerns that need to be quickly addressed with plans to allocate money and resources to curb them.
"Kenya wildlife is increasingly under pressure due to increased threats to elephants, rhinos and other species. These crimes pose a great threat to national security and conservation efforts in addition to threatening the realisation of Vision 2030," Mr Kenyatta said.
The report estimates that Sh3.1 billion is needed to win the war against poachers.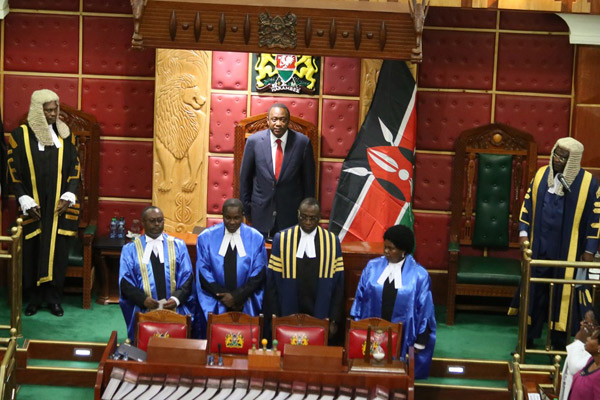 Uhuru to shake up NIS in major security changes