ICC witness tells judges he lied against Ruto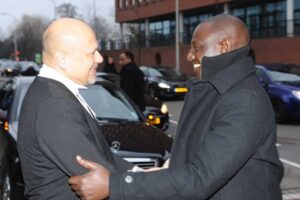 A witness had admitted to International Criminal Court (ICC) judges that he knowingly lied in evidence against Deputy President William Ruto after prosecution investigators offered him wealth and other benefits.
He also made a stinging indictment of prosecution through a sworn affidavit, saying they collected evidence from him knowing that it was false.
Following the admission by Witness 604, prosecution lawyer Mr Anton Steynberg made an application that he be declared a hostile witness.
However, Mr Ruto's defence team, lead by Mr Karim Khan vehemently opposed the move.
The witness had unsuccessfully made a new request for postponement of the hearing earlier in the morning, with presiding judge Chile-Eboe Osuji saying some of the reasons advanced by his lawyer did not provide valid grounds.
-nation.co.ke