Stop intimidating MPs, Alfred Keter tells Uhuru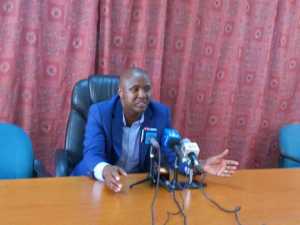 The Jubilee Party MPs who were summoned to State House have accused president Uhuru Kenyatta of meddling with parliament's work.
They are Alfred Keter (Nandi Hills), Silas Tiren (Moiben), David Bowen (Marakwet) and Alex Kosgey (Emgwen).
The four had been summoned by Uhuru for allegedly defying the party's directive to resign from the committees they were elected to head.
Deputy president WIlliam Ruto had directed them to relinquish their seats but the four defied the order.
Keter claimed State House asked members of the environment and agriculture committee to petition speaker Justin Muturi for their removal as they were not in their "right senses" when they elected them.
He said: "I think these members were not in their right senses, more today than compared to the day they elected us. They need a doctor to examine them."
He and the others have now threatened to write to Muturi for fresh elections of committee chairs.
The MP further told journalists on Thursday that the executive has become "so idle that it is intimidating MPs".
Keter warned the executive against interfering with parliamentary activities on grounds that MPs do not interfere with the presidency in cabinet formation.
The lawmaker added he will not be intimidated by anybody in the ruling coalition to relinquish his Labour committee chair position. He noted he obtained stay orders from a court so he will remain the team's boss.
He noted readiness for any disciplinary action by the party because he has not broken any law.
Keter claimed majority leader Aden Duale and chief whip Benjamin Washiali were part of "illegal fertiliser and sugar cartels" behind the push for him and his colleagues to lose their posts.
"These cartels are very worried about us being chairs because they know my stand in the fight against corruption," he said, adding the groups were misleading the president on committee leadership.
"They are behind the fake fertiliser, sugar and maize imports and want to plant puppets in these committees so they can manipulate them. But we we are more energised and shall not relent in protecting our farmers.
"It is very unfortunate that MPs can be intimidated by the executive. The president has a lot of responsibilities in the appointment of CSs and PSs and Kenya is facing challenges in free education. He should.
In December last year, Duale told the four MPs that Jubilee had many options in the appointment of committee heads.
He said: "The party will explore all options in order to ensure regional balance and inclusiveness is observed in constitution of committees.This is what Jubilee stands for."