President Uhuru Kenyatta tops list as one of the most accessible leaders
President Uhuru Kenyatta tops list as one of the most accessible leaders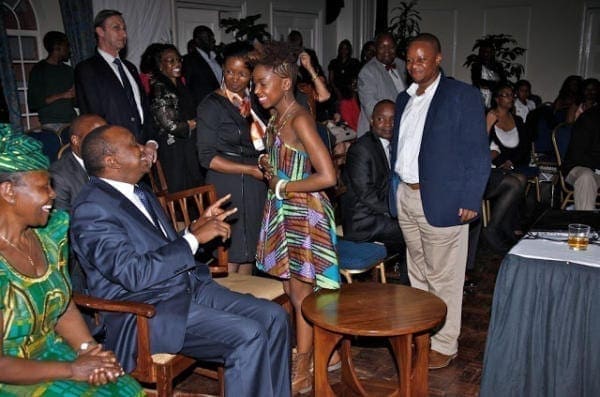 Not many people think of calling State House, but if you try, the response would be beyond your expectations. You wish to speak to President Uhuru Kenyatta? Well, no sweat, the secretary will simply transfer the call to his office without much ado as soon as you identify yourself. If the head of state is not available, your message will be delivered to the President.
Deputy President William Ruto on his part has kept the same cellphone number on which he personally answers calls. The two, who ascended to power on a 'digital' platform, are also active on Twitter and Facebook.
Even when they are not available, the President and his deputy can easily be engaged through their communications offices manned by the president's spokesmen, Manoah Esipisu and  Munyori Buku; and David Mugonyi and Joshua Tallam for William Ruto.
Save for the outgoing or very public foreign affairs secretary Amina Mohammed, Labour, Social Security and Services Secretary Kazungu Kambi and Attorney General Githu Muigai; the rest of the Jubilee cabinet is perceived to be generally detached from the public.
Packaging and getting the government's message to the public is the ultimate goal of any regime, but in Jubilee's case, only the president and his deputy seem to be keen to engage with the citizenry.
Before coming to power, Jubilee promised to anchor governance issues on 'uwazi' openness or transparency), 'umoja' (unity) and 'uchumi' (economy) pillars.
The president's Spokesman Manoah Esipisu says Cabinet Secretaries are under obligation to respond directly to matters of public interest.
"Cabinet Secretaries do not need to be told to do their self-appraisal in public and the President did not ask them to do so. It is their duty to report back to the Kenyan people from time to time about what they are doing and how their work impacts the lives of the people they serve. They may do this in structured briefings, which can be quarterly or annually. Public report-backs by cabinet is an established practice in many jurisdictions, including South Africa. They also may do this by sustained engagement at events, including media events," Esipisu says.
The reluctance by CSs to engage the media is what sometimes leads to speculation that may have serious economic and political implications. During the Westgate attack for instance, Interior and Coordination of National Government CS Joseph ole Lenku would not clarify contradictions in his statements.
Defence CS Raychelle Omamo has not been available to comment on grey areas in the latest Auditor General report on questionable expenditures despite many requests to do so.
Environment, Water and Natural Resources Secretary, Judi Wakhungu, has steered clear of media enquiries about poaching and staffing appointments at the Kenya Wildlife Service.
National Treasury CS Henry Rotich rarely responds to questions regarding his docket, unlike his predecessor Njeru Githae, who was forthright with information on the economy.
The list is long.
Part of the reason given for the invisibility of Jubilee CSs is that ministers in former administrations were politicians.
A Bill giving the President a freehand to appointment future ministers from MPs has already been introduced in Parliament, which if enacted, would enable CSs to answers questions from the floor of the House. This is currently not the case as they are represented by parliamentary committee chairmen in the House. Efforts to amend Standing Orders to enable them respond to questions in Parliament hit a snag after the AG warned that the move would violate the separation of powers principle.
Questions relating to the Executive are meanwhile handled by Majority Leader Aden Duale.
The originator of the Bill that gives the president leeway to appoint ministers from elected leaders, Lugari MP Ayub Savula, says CSs are a disservice to the government.
"There is political disconnect between the government and the grassroots because CSs are indifferent and don't engage with the public. At present, committee chairmen answer questions in parliament on their behalf. Our experience is that such situations leave many questions unanswered and create opportunities for corruption to thrive. It is these same reasons that make the CSs afraid of the media," says Savula.
According to Esipisu: "The President has given Cabinet Secretaries clear tasks. Those tasks are confirmed in annual work plans. The President will judge cabinet performance on the basis of delivering on that agenda. This (Bill on cabinet appointments) is a matter under discussion by Parliament and the President has not considered its implications either way."
The current situation where the government is unable to pay civil servants on time has only added to questions about the openness of the Jubilee government in comparison with with its predecessors.
"That openness is real. The only way government operations can be seen to be above board is to be accessible and transparent. There are things that may not be working. The President is willing to admit and explain such cases to the public. That is why he keeps channels of communication open," says Munyori Buku, the Director of Public Communication at State House and Office of the President.
Questions of transparency pop up when the government cannot explain its policies. Treasury Secretary Henry Rotich, Energy Secretary Davies Chirchir, Health Secretary James Macharia, Environment Secretary Judy Wakhungu, Tourism Secretary Phyllis Kandie, ICT Secretary Fred Matiang'i, Transport Secretary Michael Kamau and Agriculture Secretary Felix Koskei top the list of invisible and inaccessible ministers.
By comparison, former President Mwai Kibaki's cabinet consisted of the most visible and accessible ministers who demonstrated knowledge and mastery of issues in their ministries.
The late Mutula Kilonzo personally responded to questions when he served as Minister for Education and Minister for Justice. The same applied to former Vice President Kalonzo Musyoka as Minister for Foreign Affairs.
Compared with former President Kibaki's ministers, Jubilee's CSs, who unlike the former were appointed on the basis of their expertise in specialised fields of knowledge, are 'recessive' in their engagement with the public through the media.
Not many Kenyans can name more than five out of the 18-member cabinet.
The late Assistant Minister for Internal Security, Orwa Ojode, was synonymous with security matters, while Najib Balala distinguished himself as an able tourism minister.
Are the cabinet secretaries under instruction to keep a tight leash on important national issues? According to Buku, the secretaries should avail information to the public in line with Jubilee's policy of transparency. "The CSs have their own communications officers, who should be able to explain why they cannot share information in their dockets with the public. The President and his deputy cannot micromanage the ministries," he explains.
Director of Communications in the DP's Office, David Mugonyi, admits that some ministries may have difficulties in packaging their messages for the media and public.
It is difficult to know and name, let alone physically identifying; the the CS for Agriculture, Livestock and Fisheries; Health; Environment, Water and Natural Resources; East Africa Affairs, Commerce and Tourism; Transport and Infrastructure and others who lurk in the the background. It is only the ones dogged with controversy, such as  Lands, Housing and Urban Development Secretary Charity Ngilu; Education Secretary Kaimenyi; Interior and Coordination of National Government Secretary Joseph ole Lenku; and Devolution and Planning Secretary Anne Waiguru who are easily recognisable.