Crucial ruling for Thursday in Ruto and Sang ICC case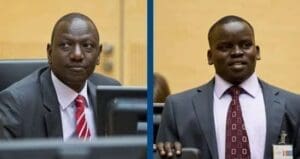 ICC Judges are set to issue a landmark ruling in the case against Deputy President William Ruto and his co-accused Joshua arap Sang on Thursday.
The five-judge bench of the Appeals Chamber will determine whether the trial Chamber was within its powers to compel nine reluctant witnesses to testify.
"On Thursday, October 9, at 15:00 (The Hague time), the Appeals Chamber of the ICC will hold an open court session to read a summary of its judgment on Ruto and Sang's defence teams' appeal against the Trial Chamber V(a) decision of April 17," the court said yesterday.
This means if the Judges quash the decision of the trial chamber, the testimony of four witnesses will be thrown out. Ruto and Sang appealed the decision forcing the witnesses to testify, saying Kenya's constitution and the Rome Statute do not allow witness compulsion.
The decision will be key to the defendants because Prosecutor Fatou Bensouda has indicated she will be seeking to admit the initial statements of recalcitrant witnesses directly as evidence — if its proved that they were influenced to pull out of the case.
In their ruling, the Judges, headed by Nigerian Chile Eboe-Osuji, ordered the government to employ "all means available under the laws of Kenya" to make sure the witnesses gave evidence.
They said it was essential for the court to summon witnesses, otherwise it would be a "phantom" institution.
– the-star.co.ke