Kajwang' paid 6 cows and Sh 60,000 as my dowry, says other wife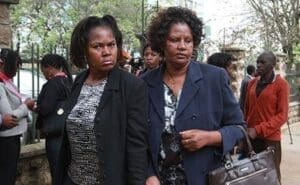 Six cows and Sh60,000 is the bride price the late Senator Otieno Kajwang' paid in 1993 to marry his 'second' wife, it emerged yesterday.
Ms Faith Vivian Ouma said she has been legally married to the deceased for the last 21 years but admitted that it had been a 'rocky' relationship.
In a candid interview with The Standard on Saturday yesterday, the 40-year-old woman narrated how Kajwang' has been her "darling and loving father" of her two children-Ronnie Odinga (19) and Christie Otieno (18).
Ronnie is a student at Kabarak University and Christie just sat her Form Four examinations.
Faith said after many years of marriage, it pains her to see 'another woman who was not in Kajwang's life' gather courage to deny the truth.
"When I was married, Rose (the other wife) had separated with Kajwang'. She was nowhere. She just came back the other day when Kajwang became minister. In fact, I married Kajwang' when he was a poor lawyer. I am the power behind him," she said.
Evidence
She went on to produce photographic evidence to show how central she was to the success of the late senator.
In one of thephotographs, Faith ispictured alongside Kajwang' receiving a victory gift from David Ajwang (Kajwang's father) when he was first elected Mbita MP.
The other picture captured her sitting next to Kajwang' and chatting with Oburu Oginga, a nominated MP and brother of opposition leader Raila Odinga, who was also captured in the same photograph.
Another photograph shows Kajwang' holding their daughter, Christie, when she was five months old.
Faith said she has and still enjoys a cordial relationship with the family of the late senator. "I relate well with everyone else except her. We never see eye to eye," she said.
Faith said that on the fateful day, (Tuesday) she spoke to "her husband" whom she said even sent her Sh5,000 through mobile money transfer service.
"He said he was going to Kiambu then he sent me the money for day's utilities," she said.
She said that later in the day at about 9pm, she received a call from one of the late senator's aides informing her that Kajwang' had fallen ill and was at Mater Hospital.
"By the time I arrived at the hospital, he had been pronounced dead. But I found Rose there and many other relatives. I spent the rest of the night at the hospital until his body was removed to Lee Funeral Home in the morning," she said.
However, according to Faith, the events turned very fast against her on Wednesday the moment they arrived at the mortuary.
"One gentleman was sent to me to ask me to leave the mortuary because 'Rose wanted to mourn her husband in peace' and I was shocked," she said.
Faith said the sight of Kajwang' at the mortuary did not prompt her to protest. "I left the mortuary because I did not want confrontation," she said.
She said she was, for the second time, asked to leave the mortuary on Thursday.
"I also complained because things were moving fast, yet I was not involved. I did not know about funeral arrangements and nobody was talking to me," she said.
But the events that transpired at the mortuary yesterday did not impress Faith. "They sent another lady to ask me to leave the mortuary. They even went to the extent of sending away my daughter from mourning her father. I was hurt and at this point I felt I must speak out," she said.
Earlier on yesterday, at the mortuary, Faith declared her relationship with Kajwang'. "I am not Kajwang's girlfriend. I am his legally married wife. Stop these speculations," she shouted.
Flanked by her sisters and close family relatives, Faith drove off from the mortuary.
And when The Standard on Saturday caught up with her at her Lang'ata home, she narrated how the late senator has been central to her life. "He even paid for our trip to South Africa recently," she said showing the passport stamps.
"Let me tell you this; he pays my rent, he has paid school fees for his two children and we have some investment projects that we had been doing together," said Faith.
During the interview at her dining table, Faith said she had enjoyed a good relationship with Kajwang's parents.
Declined to confirm
"Dorcas (Kajwang's mother) still sends me fresh fish delivered by a popular shuttle on the Kisumu Nairobi route. And this is the truth," she said, adding that "I also have a house constructed for me by Kajwang' at his rural home."
As she spoke to The Standard on Saturday, numerous calls came in. She said one was from a very close aide of the fallen senator, while the other was from the senator's sister.
When asked about Faith and her connection to the Kajwang's family, Senator James Orengo declined to confirm her relation to the fallen senator, and instead asked journalists to investigate the matter to unearth the deceased's movements on Tuesday night until his death.
"These sideshows should not derail us from according Kajwang' a decent and honourable burial," said Mr Orengo, the family lawyer and spokesperson who is also the chairman of the burial committee in charge of the send-off.
Efforts to get a comment from Kajwang's brother Ruaraka MP Tom Kajwang' were fruitless. – standardmedia.co.ke