I quit ODM long time ago, says Bishop Margaret Wanjiru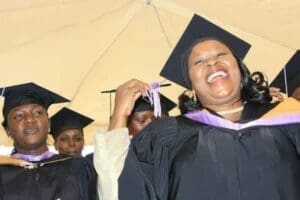 Former Starehe MP Bishop Margaret Wanjiru has said she quit the Orange Democratic Movement (ODM) a long time ago and is now shopping for a new political party.
Ms Wanjiru said she left the former premier Raila Odinga-led political party after she was humiliated by the party leadership when she was denied the opportunity to vie for the Nairobi gubernatorial seat during the last General Elections.
Ms Wanjiru tried to vie for the seat on an ODM ticket but was barred after it emerged that her degree was not recognised and accused the party of doing nothing to save her situation.
Ms Wanjiru, who has been out of the limelight since the elections, spoke on Tuesday to journalists at St Paul's University, from where she graduated with a degree in leadership and management.
"I have been very serious and very committed in school and now I have a Kenyan degree. A few years ago when I launched my candidature for the Nairobi governor, the only thing ODM did was to do what they did to me about my religious degree. They call them theological, pastoral, but now let's hear who will say what now," Ms Wanjiru said.
She was barred from running for the seat after her degree in theology from Vineyard Harvester Bible College and her bachelor's degree in christian leadership from United Graduate College and Seminary International were rejected by the Commission for Higher Education.
She said even though her son Stephen Kariuki, the Mathare MP, is in ODM, she can no longer work for or with the party.
With her degree, she said, she is in a better position and asked any party interested in her to invite her as she is not affiliated with any political party.
"Any party that feels that it wants to work with me, they can invite me, but ODM in not among them. Going back to ODM is a no. I left ODM a long time ago after what they did to me and that is democracy," she said.
The party leadership, she said, betrayed her, adding that she had been loyal and had done a lot to develop the party. She said ODM leaders were untrustworthy.
She believes that she was unfairly denied the chance to vie for the Nairobi governorship by ODM but believes it belongs to her and nothing will block her from getting it.
"The Nairobi governorship was mine and it remains mine," Ms Wanjiru said.
She expressed optimism that the International Criminal Court charges against President Uhuru Kenyatta and his deputy, William Ruto, and former radio presenter Joshua arap Sang would be dropped.
Ms Wanjiru criticised Nairobi Governor Evans Kidero's leadership, saying he had failed to clean up the city and address security issues. She said the governor should be prepared to a "tsunami" in 2017.
-nation.co.ke