Joho to name street in Mombasa after Fidel Odinga
Joho to name street in Mombasa after Fidel Odinga
NAIROBI, Kenya, Jan 10 – Mombasa Governor Hassan Joho says a road in Mombasa will be named after Fidel Odinga to honour him for his outstanding achievements in life, especially his interaction with other people.
Speaking during the funeral ceremony on Saturday, Joho described Fidel as one who never kept a grudge but helped both friend and foe.
"As the Governor of Mombasa, Hassan Ali Joho has said that we will give respect to my brother Fidel Castro Makarios Odhiambo Odinga by having a road named after him so that we can preserve his memory. This is so that anybody who comes to Mombasa will always be seeing his name and remembering him," he announced.
While calling for calm following the death, the Mombasa Governor further stressed the need to get to the bottom of his
"We as ODM must find and an answer as to what caused the death of Fidel Odinga. We must be told," Joho stated. "We also want to thank all who were involved in the funeral arrangements for Fidel and those who contributed. We especially want to thank the government for your assistance. But we must now use Fidel's death to bring Kenyans together. We must speak in unity so that we can bring Kenyans together," he said.
At the same time, Mombasa Senator Hassan Omar Hassan urged the youth to emulate the example set by the late Fidel of hard work despite his privileged background.
Omar indicated that Fidel never depended on handouts but rather went out of his way to labour for what he needed.
"Fidel was committed to pursue an ideal to its logical conclusion. This is the message that I want to give the youth of this country. It is never going to be too easy. Fidel came from a family where his father was Raila and his mother Ida but he worked hard because nothing comes on a silver platter," he said.
He called on all young people to work hard in the pursuit of their goals and ensure that they achieve what they set out to
"We as Kenyans must work hard until we achieve a truly democratic Kenya free of nepotism, ethnicity, malice, hatred or division," he stated.
Various leaders turned up for the ceremony at the Bondo University and the speakers included Mabior Garang, the son of Southern Sudan's first president John Garang who called for all leaders to remain united to continue with the legacy set forth by Fidel during his lifetime.
"The best way that we can honor Fidel is to honor his spirit. He was the Pan Africanist. We must use the example of his life to unite the people instead of creating more division," he stated.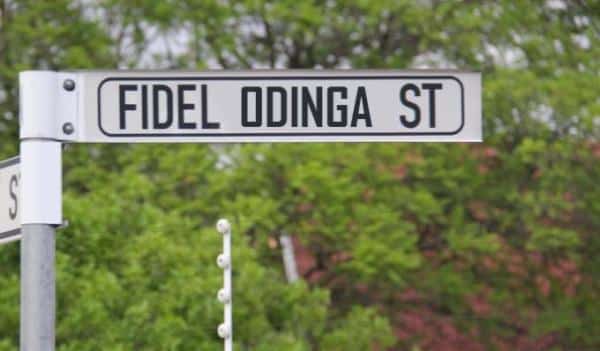 The Vice Chairman of the Council of Governors Salim Mvurya reiterated his sentiments while offering his condolences and called an all Kenyans to maintain calm even as the cause of Fidel's death was being investigated.
"The death of Fidel is also a lesson to young men and women of this country. Fidel was an inspiration. As we mourn him, let us be inspired so that all the young people of his age can be able also to achieve all their dreams in life," he said.
Zimbabwe politician Morgan Tsvangirai who was also present stated that Fidel's death would have a huge impact not only in Kenya but in Africa.
"For some of us, the passing away of this promising young man is not only a loss to Kenya but a loss to the future of African potential. I believe that when we lose the next generation of leaders, the impact is that we all lose. I believe that Fidel represented the future of the potential of the African continent as we know it," he stated.
"My brother Raila Odinga and Ida Odinga are family to me and when he lost his first son, I felt that I needed to be with him to give him support during this trying time."
Source-https://nation.africa/
Joho to name street in Mombasa after Fidel Odinga