Moses Kajwang: A DISASTROUS DUBIOUS ODM choice for Homa Bay senate race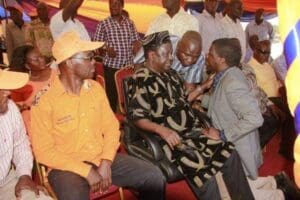 The Homa Bay senate by election has been difficult for everyone who follow it, including members of the press.
For members of the press, the ODM candidate, who ideally would have been the centre of attention is a 'no news' candidate. He is unknown and unknowable, a news item that ordinarily gets edited out with ease, yet that is impossible because for the Homa Bay by election, he is the main character, or, as dramatists would say, the main-most character.
Moses Kajwang's candidature has been disastrous for the Orange Party, though its top honcho would rather not admit it. His physical persona alone, if any other factor is blurred, does not inspire at all. He is skinny and politically emaciated for a county that eschews the energy, tempo and pace of ODM politics in South Nyanza, for Homa Bay is the most Orange of the four Luo Nyanza counties of Kisumu, Siaya, Migori and Homa Bay.
Then there is the shadow of the irreplaceable politician Moses is supposed to replace – Hon Gerald Otieno Kajwang'. Every time people see Moses, the expectation is that he will mirror Gerald, a political colossus whose departure was a heavy blow not only to politics as a governance science, but also as a campaign art.
The elder Kajwang' revolutionised the art of campaigning, allowing the country to psychologically patent the all time Bado Mapambano song as renditioned by him. The younger Kajwang got no voice to sing, leave alone to pitch Mapambano.
The younger Kajwang', picked from oblivion by a family heading into oblivion, has remained a poisonous good for ODM. For the first time, ODM has to fundraise to meet the heavy campaign expenses needed to push a lightweight into power.
The Orange party is bearing the cost of being a humane party, and avoiding the pitfalls of a culture of use and dump often in other local political parties, for Moses is being 'assisted' to rise to power due to a debt the party feels it owes the late Kajwang' whom everyone readily accept lived, breathed and slept ODM.
ODM bungled its nominations for Moses.
ODM refused to give its certificate to moneyed politicians who would not have asked it even for a dime, for Moses.
ODM has sent almost the who-is-who in the party to campaign for Moses, including a grieving party leader, yet Moses is a good far from getting the requisite customers to efficiently sell.
There is no doubt he will triumph but observers agree the cost of his victory is not worth it – too expensive.
-kenya-today.com