Kenyan dancer arrested at Lagos airport with narcotics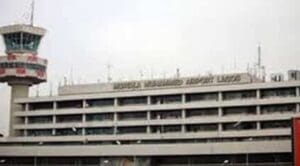 Operatives of the National Drug Law Enforcement Agency (NDLEA) have arrested a 42 years old Kenyan dancer, Odhiambo Susan Samira Johnson at the Murtala Muhammed International Airport (MMIA) Lagos with narcotics concealed in school bags.
Johnson was found in possession of four blue parcels of white powdery substance that tested positive for cocaine weighing 5.345kg.
Also two Nigerian auto parts dealers based in Uganda, Ntoruka Emmanuel Chinedu, 41, and Ndubuisi Offormadu Innocent, 49, were equally arrested importing 6.250kg of cocaine and 1.490kg of heroin into the country.
The seized drugs weighed 13.085kg comprising 11.595kg of cocaine and 1.490kg of heroin.
Speaking on the arrests, NDLEA commander at the Lagos Airport, Mr. Hamza Umar said that the suspects were apprehended while trying to smuggle drugs into the country.
"We are investigating three suspected drug traffickers for importing narcotics into the country. They include a Kenyan, Odhiambo Susan Samira Johnson who imported 5.345kg of cocaine from Bujumbura, Ntoruka Emmanuel Chinedu, for importing 6.250kg of cocaine from Uganda and Ndubuisi Offormadu Innocent who imported 1.490kg of heroin also from Uganda. In all, a total of 13.085kg of narcotics was recovered from them" Hamza stated.
Susan Johnson who was born in Mombasa travelled with Kenya international passport with number A1536020. She departed Bujumbura in Burundi en-route Nairobi to Lagos on a Kenyan Airways flight. During routine screening, she was found with four parcels of cocaine concealed in school bags.
In her confessional statement, Susan said: "I am a professional dancer in Kenya. I was given the school bags in Bujumbura by a friend to deliver in Nigeria. When I got to the airport in Lagos, they searched my luggage and found the drugs".
Meanwhile, Ntoruka who hails from Anambra State boarded Ethiopian airline flight from Kampala en-route Addis Ababa to Lagos said: "I have lived in Uganda for two years. I am married with two children. I came to Nigeria to attend my brother's marriage ceremony. While I was preparing to leave Uganda, my friend gave me a bag to take to his brother who lives in Nigeria. Unfortunately, the drug was detected" he stated.
The third suspect, Ndubuisi who hails from Abia State is also an auto parts dealer said that he is a victim of circumstance. In his words, "I went to a friend in Uganda to lend me some money but he gave me the option of drug trafficking. I decided to give it a trial for the very first time and it turned out this way. I was promised 3,000 dollars but am very sad now because I am missing my wife and four children. I have lived in Uganda for 18 years". Ndubuisi hails from Abia State.
Chairman/Chief Executive, Ahmadu Giade in his remarks noted that the NDLEA was making significant progress in drug control. "In spite of the new tactics adopted by drug barons, the NDLEA is still intercepting drugs. Ordinarily, Uganda and Kenya are not known to be source countries for cocaine and heroin but the suspects were unable to evade arrest. This is due to the diligence of officers. All the cases are being investigated and I urge members of the public to report suspected drug traffickers to the nearest NDLEA office", Giade stated.
-mynewswatchtimesng.com