Police detain alleged Garissa attack financier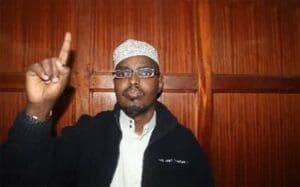 A Muslim cleric alleged to have been involved in financing the Garissa University terror attack in which the Al-shabaab killed 147 students has been detained in Nairobi to help police with investigations.
The Anti terrorism Police Unit (ATPU) Monday got a 30 days extended detention order by the court against Sheikh Hassan Mahat Omar who was arrested on Friday.
Police say he has "close links" with Mohammed Kuno alias Sheikh Mahammad alias Dulydin alias Garmadhere, the Al Shabaab leader of Juba region is Somalia and the mastermind of the recent terror attack at the learning institution.
Police say Mr Mahat and a Mr Ali Hassan Gure who is yet to be presented in court, " are involved in the financing of terror activities."
"They are high profile personalities and are believed to be key terrorism financiers in the country," a prosecutor said.
An affidavit presented before the court states that Mahat was arrested at his residency in Eastleigh on April 17 while Mr Gure was arrested around Thika Road Mall on April 19 but he is yet to appear before a panel of police interrogators to investigate 85 people suspected to be associated with Al Shabaab.
MOBILE PHONE SERVICE PROVIDER
The court heard that the ATPU believes that Mahat and Gure are in constant communication with known Al-Shabaab adherents in the country.
The unit sought time to contact a mobile phone service provider and the financial crimes unit at Central Bank to shed light on their communication and financial status."
Court was told that Mahat is believed to be involved in "radicalisation" of youth and facilitating their "exodus" to Somalia.
"The respondent is also believed to have obtained his identification documents fraudulently and his presence during investigations is crucial,"
While Gure's name appears in a government blacklist published in the Kenya Gazette notice number 2326 " as one of the entities associated with the terror group, Mahat Omar 's does not, although there is an Ali Hassan Mahat.
Mr Mahat is facing a separate pending case of being found in possession of two hand grenades alongside his wife Fordosa Mohammed.
He has been ordered detained at the Kamiti maximum security prison till May 20.
-nation.co.ke