Where was kidnapped Embu speaker? Truth about speaker's love triangle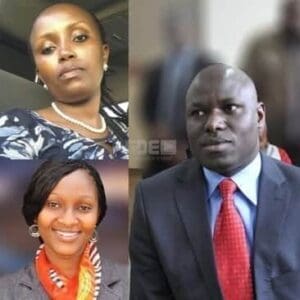 It's almost a year since Embu County Speaker Justus Kariuki Mate alleged kidnap shocked the nation.
Investigations by The Nairobian reveal that the Embu Speaker has been embroiled in a longstanding love triangle involving Wangari Kaburi of The President's Awards-Kenya and a former jilted lover. It is alleged that Mate and Kaburi spent quality time together at a hideout in Lukenya around the time of his alleged kidnap.
A worker at a hotel in Lukenya told The Nairobian that Mate, who is the 'estranged husband' of Kiambu County nominated MCA Caroline Gachomba, was allegedly taking it easy and tipping waiters heavily.
"Hatukujua yeye ni nani (we didn't know who he was) till the last day. He was very generous and preferred to eat in his room. Ilikuwa tuu siku moja kabla aende ndio mmoja wetu aligundua yeye ni nani, akamuuliza na Mate akacheka tu (it was not until a day before his checkout that a colleague discovered who he was and asked him about it, but he just laughed)," the worker told this writer.
But the Speaker denied the claims saying it is Wangari's ex-boyfriend who has refused to move on and is maligning his name. " He was kidnapped and this guy who was dumped has been trailing him and saying all manner of things," a source close to the Speaker said.
This development comes amid revelations that police have sought the advice of the Director of Public Prosecutions (DPP) on whether to question Embu governor Martin Wambora over the kidnap. A 34-year-old carpenter had not only linked Wambora to the kidnap, but also claimed to have participated in it.
Wambora however denied the claims through an aide, saying he had never been to the said hotel where the carpenter claims they met.
Joseph Ng'ang'a Waithera told detectives under the command of Assistant Inspector General Mohammed Amin that he was among four men who kidnapped Mate from Utalii Hotel on May 19 last year. In his confession, Ngang'a claimed they were supplied with new mobile phones which were later taken away after the operation. He could not however recall the phone numbers because they were 'new' to him.
Ng'ang'a also named a second suspect in the attack who was grilled and released by police on the advise of the DPP.
He claims they kidnapped Mate from outside the gates of Utalii Hotel, bundled him into a car and drove toward Kiambu Road via Garden Estate then switched cars near the National Intelligence Service (NIS) headquarters and left him with another group of criminals who were supposed to kill him.
His claims corroborates Mate's statement that he was transferred to a second car near NIS headquarters before being driven to Limuru where was found four days later. DPP Keriako Tobiko said he is still perusing the file.
In his statement to the Press at The Aga Khan University Hospital, Mate, who wept uncontrollably when he saw his two sons Mark and Sammy, claimed he was abducted at Utalii Hotel in Nairobi where he was attending a county budget-planning meeting. Police could not track his whereabouts because he had left his phone behind.
After Mate was 'found,' Nicholas Muriuki Kangangi of CID Starehe was arraigned in court and charged with the kidnapping based on a 'missed call' made to the Speaker before Mate's disappearance. He was released on a Sh100,000 bond and his case terminated in October 2014 for lack of evidence.
Embu Deputy Speaker, Ibrahim Swaleh, said at the time that,
-.sde.co.ke