President Uhuru To Name William Ruto For 2022
President Uhuru To Name William Ruto For 2022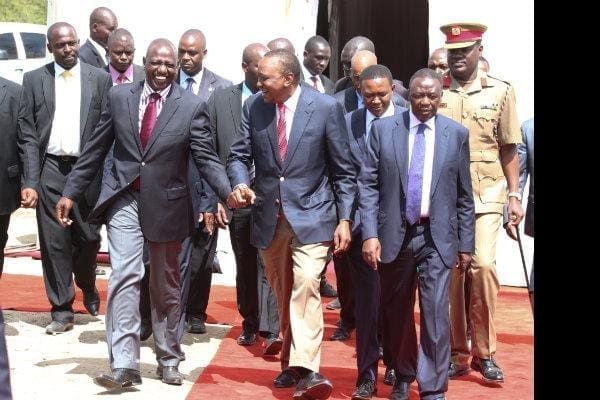 President Uhuru Kenyatta will publicly endorse Deputy President William Ruto to succeed him in 2022, sources within Jubilee circles have revealed.
The President will make a public announcement to endorse Ruto "so as to avoid the 2013 situation where former President Mwai Kaibaki failed to endorse former Prime Minister Raila Odinga".
Raila was running for presidency and it was ODM's expectation that Kibaki would endorse him after they shared power in the grand coalition government.
"There is an agreement that President Uhuru will serve for two terms then the Deputy President will take over for another two terms," Ainamoi MP Benjamin Langat told the Star yesterday.
He said the Rift Valley, led by Ruto, has given Uhuru "all the support".
"We expect Uhuru to play his part by supporting Ruto too. We are working on modalities towards that,"  Langat said.
Ruto has confirmed he will back the President in 2017 to respect Jubilee's pact made ahead of the 2013 elections that Uhuru leads the country for 20 years.
But Ruto has his eye on the top job in 2022, and expects Uhuru to reciprocate by backing him and rallying his supporters behind him.
Ruto and his key allies are reported to be behind the expected merger of URP and TNA to form JAP.
It is reported that Ruto is keen to ensure that both Mt Kenya region and the expansive Rift Valley are under one umbrella before consolidating more voting blocs.
Two weeks ago at a retreat which brought together at least 70 MPs from Mt Kenya, Nairobi and parts of Eastern, it is reported that the leaders unanimously resolved to support the Deputy President in 2022.
Multiple sources who attended the meeting held at Aberdare Country Club have  told the Star that "after brainstorming" they settled on the the DP as Uhuru's running mate in 2017 and presidential flagbearer in 2022.
Kiambu Senator Kimani Wamatangi yesterday told the Star: "They agreed that Ruto should ascend to power after Uhuru".
Kabete MP Ferdinand Waititu echoed the sentiments.
"Yes it was one of our agenda items," Waititu said on the phone.
"The President has assured Ruto of his support in 2022 after his term ends in 2017 so as leaders we will respect him and follow the direction he will give us. Where he will say we go, we will rally our people to go along with us," the former Embakasi MP added.
According to Ruto's close associates, the DP has made multiple trips to Central Kenya counties — with Uhuru's blessings — to fortify his support base.
In the last two months, Ruto has visited the region more than 10 times, gracing three functions in Kiambu county last weekend.
He opened a CDF office in Lari, laid a foundation stone for Lari Technical Institute and attended a church service in the same area.
On May 15, Ruto commissioned the Kiguru Water Project in Kiharu constituency, Muranga county, before attending a thanksgiving ceremony at Pioneer High School.
He also opened Greystone Industries Ltd in the same county.
On May 4, the Deputy President was in Kiambu county, laying the foundation stone for the M-Pesa Foundation Academy in Thika.
On April 28, he launched an education and infrastructure support programme for persons with disabilities at Joytown Special School in Thika.
On April 25 and 26, Ruto was the chief guest at a thanksgiving ceremony for the Meru women's representative Florence Kajuju and a church service at MCK All Saints Kinoru Methodist Church respectively.
Ruto, who is in Nigeria, was yesterday scheduled to be in Kiambu for a groundbreaking ceremony for a multimillion-shilling hospital.
Today, the DP was to attend a harambee organised by Nyandarua women's representative Wanjiku Muhia for a cancer centre.
President Uhuru To Name William Ruto For 2022