SONKO: SAFARICOM MADE THEIR BILLIONS FROM MY CASH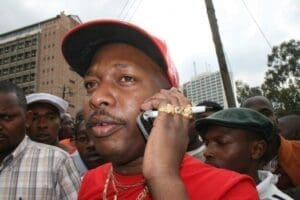 Flamboyant Nairobi politician Mike Sonko has said he is the biggest client responsible for the billions of shillings that Safaricom made as profits.
Sonko, who is renowned for his extravagance, made the daring statement via Twitter.
"I can confirm that almost 1/4 of @SafaricomLtd's profits can be traced back to me due to my active M-PESA accounts. You're welcome guys," he stated.
Sonko's largesse is known to many who visit his KICC offices and pour out their problems to him before walking out with bundles of money.
Sonko, who stepped aside from his Senatorship role to pave way for investigations, recently said that he will sink boreholes to supply water to Nairobians.
Sonko's remarks were due to the ongoing water rationing as the water supplying company, Nairobi Water runs maintenance.
The Sonko Rescue Team that has now become a household name in times of trouble recently supplied free water in bowsers to South B and Kaloleni residents.
-nairobinews.co.ke