Video:With Pro-life Stand, Sauti Sol Have Invited Us To Discuss Abortion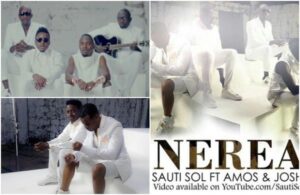 Their stage name is Sauti Sol, perhaps meaning coordinated voices that produce systematic syllables. Their voices are angelic with lyrical renditions that invoke emotions. Their style is suave and sleek. Their talent is enticing, inspiring and borderless.
For starters, Sauti Sol is a Kenyan musical group of boys  who met while studying at Upper Hill High School-Nairobi. They started off their musical career as a cappella singers.
From being simple and innocent boys to becoming sophisticated sexy men, Sauti Sol honed in their skills by infusing Afro-Benga into their a cappella style to produce beautiful Afro-pop-soul-R&B music that sweeps both the faithful and faithless, the lowly and the mighty.
Popularly known for their euphoric single "Sura yako", Sauti Sol have won hearts and minds across the continent of Africa with numerous awards to crown their fame.
But it is their new single, Nerea, that is standing the ground and touching the sky, at least metaphorically speaking. The song takes on the issue of abortion with the audacity that defies taboo surrounding that topic in Kenya.
In the song, Sauti Sol paints a fictitious image of a hope-filled man begging his girlfriend, Nerea; not to abort "his baby." Although the underlying tone in the song sounds andocentric, the prospective father acknowledges God's providence that promises supernatural opportunities for the unborn baby if imaginary mother, Nerea; gives the baby a chance to be born and not aborted.
Nerea was released against the backdrop of worrying statistics which document incidences of abortion and its complications resulting from unsafe procurements. Numerous studies reveal that 465,000 abortions happens every year in Kenya among women of reproductive ages of 15-49.
In a society that claims to be Christian, these figures raises uncomfortable yet fundamental questions on faith, values and sex-that require an honest discussion in the light of skyrocketing cases of abortion. 
Ready or not, Sauti Sol have sneaked in on us and invited us to start a conversation on abortion which is a social challenge to every Kenyan family even though we might deny it.
Nonetheless, abortion debate draws a red line in the sand between pro-life and pro-choice groups and individuals. 
Pro life assert that life begins at conception and abortion is a murder case that must be frowned upon and be severely punished. 
In fact, Kenyan law outlaws abortion except in extenuating circumstances when the pregnancy is declared by a recognized medical practitioner as a threat to the life of the mother.
However, pro-choice laments. They say that women should not be told what to do or what not to do with their bodies.
In addition, pro-choice assert that every woman must be empowered with knowledge on reproductive health and be given choices which includes a choice to procure safe abortion administered by licensed medical practitioners or keep the pregnancy depending on health concerns or other social reasons.
Whichever vantage point you're at, Sauti Sol, who advances a pro-life position in their song Nerea, have invited us to step forward in the public square and participate in a rather private and uncomfortable discussion on abortion.