Ababu Namwamba alleges plot to remove him from ODM post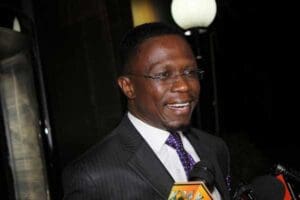 Opposition party ODM secretary-general Ababu Namwamba has accused a section of party members of plotting to remove him from the post.
Mr Namwamba on Tuesday dared those eyeing the post to prepare for a tough battle, saying he did not get it on a silver platter.
"I earned the seat through hard work. If you think you can take it away, then try it," said the Budalang'i MP who, however, did not name those keen to kick him out.
"We are not visitors in ODM. We are majority shareholders. Don't think you can treat us as if we are guests. This is our party and we are not going anywhere. We are in ODM to stay."
Mr Namwamba was speaking at Mundere Primary School in his constituency during the official opening of two classrooms, which were funded the Constituency Development Fund (CDF).
He was accompanied by the Slovakia ambassador to Kenya Michal Mlynar.
Mr Namwamba also dismissed politicians who have labelled him "a Jubilee mole."
"It doesn't mean that when you are in ODM you are not supposed to cooperate with leaders in other political parties," he said adding that he was working with Jubilee government because it is the one in power and is supposed to distribute resources to all Kenyans equitably regardless of political parties.
"Opposition leader Raila Odinga embraced President Uhuru Kenyatta when they met in a function in Kisumu. Does it mean that he is also a mole in ODM?. If that is the case, then everybody in ODM is a mole," said an agitated Namwamba.
"Let the world know that I have invited President Uhuru next month to come to Budalang'i and lay the foundation stone for the construction of Sigiri Bridge which claimed nine lives last year," he said.
He added: "If serving my people is giving you sleepless nights, then you shall never sleep because whatever you say I will not stop serving my people."
He told ODM leaders to stop playing petty politics and instead asked them to lay strategies that will enable the party win the 2017 election.
-nation.co.ke