African Union names gardens at headquarters after Prof. Wangari Maathai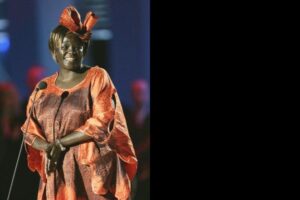 The African Union  honoured the late Nobel Peace Prize Laureate Prof Wangari Maathai on Monday by naming the gardens in front of its headquarters in Addis Ababa, Ethiopia after her.
The proposal to honour the late Kenyan environmentalist was made by the Democratic Republic of Congo during the just concluded 25th AU Summit in Johannesburg, South Africa.
"The overall objective is to highlight the work and achievements of the late Prof. Wangari Maathai and identify how best the African Union can continue to commemorate and celebrate her life," the delegate said in the proposal.  DRC said it is imperative for Africa to distinctly recognize the achievements and contributions of Wangari Maathai in the fields of environment, human rights and democracy.
The Executive council of ministers in adopting the proposal said celebrating Africans like the nobel prize winner acknowledges the struggle of the individuals but also memorializes their legacy.  The late Professor won the 2004 Nobel Peace Laureate after decades of environmental and political activism to conserve forests in Kenya and beyond and was the first African woman to receive the coveted prize.
– the-star.co.ke