Taekwondo Kenya Lacks Funds to Attend World Championship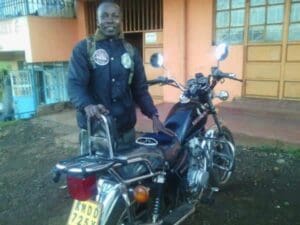 President of international Taekwondo Federation (ITF) in Kenya, and international instructor Richard Kenge David never loses heart in support of the sport he dearly loves.
This is despite the challenge of lack of money to take the three leading taekwondo champions, who have qualified to attend the World Championships in Italy June 25-28.
"I have been preparing the Junior Taekwondo team from Kenya to participate in the championships."
"The local taekwondo club has three participants qualified to attend the championship but only one will make it because we lack money for facilitation that includes travel and accommodation," said Mr Kenge.
Only one 13-year-old Ian Wanene, a class eight pupil would attend as Owen Olemayan (10) and Nilson Mwakuloba (11) are left despite having qualified for the championship.
Wanene has trained for three years, is a first degree black belt and a pupil at Tharuni primary school.
Olemayan is the youngest champion in Kenya. In the last ten (10) Kenya Opens for Taekwondo held here, Olemayan has won gold in all the four championships. He is 13 years old and has a second degree black belt.
Mr Kenge said Olemayan was the first youngest first degree black belt and the second degree black belt.
Thirdly, Mwakuloba is 11 years old and a first degree black belt. He studies at Limuru model and is in class six.
"The children have a future in the Olympics and the world championships, and can win many medals through this sport," said Mr Kenge.
He encouraged parents to let their children take part in sports. "We have talent in the young children, which we should nurture, encourage, grow and support," he said.
He said the club would like more support because the world championship is a big event that will shape the participants and prepare them for the Africa championships.
The Africa Championship would be the first in the continent. Previously, Africa cup has been held four times.
The ITF-Kenya is preparing for the Africa championship to be held in Addis Ababa in Ethiopia in the month of August 7-12.
"Addis Ababa is selected because it leads in the number of black belts in Africa," said Mr Kenge.
The goal for ITF-Kenya is to take part in the Olympics and represent Kenya, and win some medals.
Limuru is headquarter for ITF-Kenya.
There are many clubs under the Kenya International Taekwondo Association. The association is called 'Limuru International Physical and Fitness Centre'.
The club has a membership of 28 children and 16 adults.
"We are the first to get black belts for the children. We have five black belts. We also have the youngest black belts in Africa. This is a 13 year old with a second degree black belt and this is a big achievement in our country and Africa. This gives us a good and high ranking of teaching children martial arts to an extent they reach such a high rank," said Mr Kenge.
The association has clubs in schools and the President uses a motorbike to travel to and fro in support of the sport.
Mr Kenge has also encouraged his four-year-old son to take part in the sport.
We have a 'Kids Development Program', which my son has also developed very well in. The program has been supported by the county government of Kiambu, and now we have a teacher who can teach the program and bought books for the same program," said Mr Kenge.
The benefits for children who take part in taekwondo  discipline where they are taught the tenets of taekwondo that include courtesy, integrity, discipline, self-control and an indomitable spirit.
The taekwondo teams entertain guests during county functions in Kiambu attended by Governor William Kabogo and his deputy Gerald Githinji among other leaders.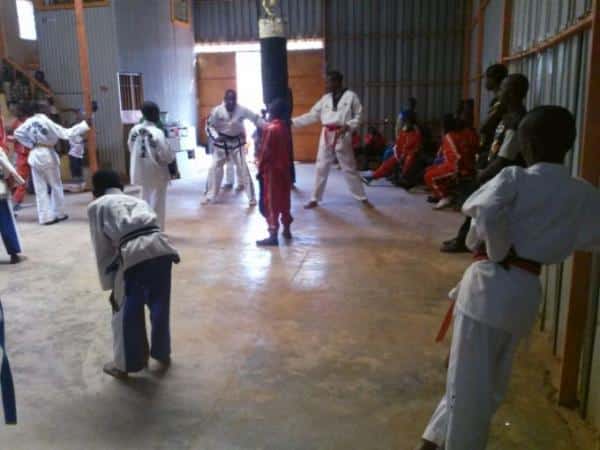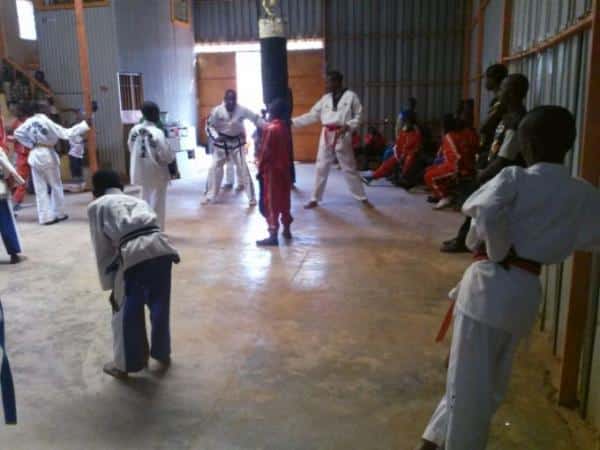 Taekwondo training at the Limuru International Physical and Fitness Centre. The facility made out of iron sheets and a cemented floor, and is where training goes on.Photo/Anne Kanina
By Anne Kanina-HTBluff Associates   #HTBluff    An EMG Consortium/Diaspora Messenger contributor