I was tricked into joining Al-Shabaab against my will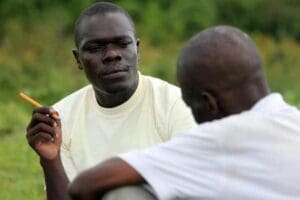 A man from Nyanza has sensationally claimed that he was tricked into joining Al-Shabaab five years ago after being promised a job in Qatar.
The man, a teacher, said he was employed in a private primary school but was experiencing financial difficulties due to the low salary when a friend told him that there were lucrative job openings in the Middle East.
The friend put him in touch with a businessman he identified as Mr Omar Latiff, based in Eastleigh, Nairobi, who was to make arrangements for his travel. At the time, the father of four was also living in Eastleigh.
"They told me that they would secure my visa and sponsor my travel to the new country," he told theNation in an interview on Sunday. "I was asked to provide photocopies of my academic papers."
On the day they were to leave the country, the man said he was introduced to other people who had similarly been promised various jobs in Qatar.
They were to take a bus to Mombasa for a direct flight to Qatar.
Only after their journey had started did he realise that Mr Latiff had not told him the whole truth. First, they were taken to Temple Road in Nairobi where they boarded a bus. When the bus got to Mtito Andei, some of the passengers were asked to alight and board yet another bus.
"I started being suspicious after we were put on the bus and given Sh20,000 each and packed lunch," he recalled. Instead of heading to Mombasa, they changed course and started travelling towards Mwingi.
According to him, some of their minders had AK-47 rifles, which they claimed they needed because the road they would use was dangerous.
After eating lunch at around Mwingi in Kitui County, they lost their senses, only to wake up in a mosque in an unknown place.
The 47-year-old man, who requested not to be identified for fear of retribution but who the Nationwill call Yusuf, said that since he escaped from Al-Shabaab in 2012, he has been spending his days in hiding for fear of being tracked down by people who believe he will expose their secrets.
He claimed to have been a Christian all his life but had converted to Islam after his church refused to bury his father in 1996. That was how he had ended up being offered the Qatar job, though as it turned out he was being tricked into becoming an Al-Shabaab fighter.
Although Yusuf's story is impossible to conclusively confirm, it points to troubling new possibilities about the number of Kenyans being recruited into terrorism and a strange disinterest from law enforcement in those who have returned.
There is a strong likelihood that Yusuf is a man who has committed serious crimes, including terrorism. At the very least, he will need to be taken through a process of de-radicalisation and re-integration.
When the Nation team interviewed him, he said that he and about 20 other people in his group were finally taken to Somalia where they were given firm instructions to forget their relatives back in Kenya.
They were bundled into a mosque and all their electronics confiscated. Shortly after their arrival, a man appeared and gave commands in Arabic, a language that he did not understand.
"'Welcome to the land of brotherhood,' the newcomer later said in Kiswahili. 'Here we are brothers. You are not allowed to do any other thing apart from what we ask you,'" Yusuf recalled.
He was given new sandals and an "Arafat" scarf and warned not to contact anybody outside the mosque.
They would later be taken through three months of training to familiarise themselves with AK-47 rifles, rocket propelled grenades, how to deal with land mines and other forms of military training.
"We were paid $30 (Sh2,910) for our maintenance and were promised $75,000 (Sh7.3 million) after three months of training," he said.
However, all he got was the promise, never the money.
"There was no way we could protest. Some of my colleagues who pressed the Al-Shabaab leaders to the wall had their heads chopped off," he said.
Yusuf claimed that he had taken part in more than 10 missions in Burundi but none in Kenya.
"We were told the enemy is anything Amisom, Somali forces, Ethiopian army and any other person believed to be a traitor to Sharia law," he said.
Their operations were mostly carried out at night and they spent their days in hiding.
"We were prohibited from taking miraa, cigarettes, alcoholic drinks and sex."
In 2012, he was sent on an operation inside Somalia. While on the mission, which was mainly collecting money from rich Somalis, he and seven others in the group hatched a plan to escape.
"The only way was to kill our team leader whom we strangled using a wire and buried in the sand," he said. "We drove the car on top of his grave to conceal the grave".
Their journey to freedom had began but it was not without perils.
"We had little water and food. We killed anyone who blocked our escape and ate raw wild game meat for survival."
Again, they could only travel by night and had to spend day time in hiding, mostly by lying down on the sand, although the temperatures could easily reach 40 degrees.
According to him, from the initial group of eight, only he and two others managed to reach Kenya. They killed their other five colleagues or simply left them to die in the fields after they threatened to reveal their plans to Al-Shabaab bosses.
He narrated how the three burned their Jihadist outfits after crossing the border and entering Kenya on November 14, 2012.
"We burnt all the clothing and sold the guns that we had to herders in some desert in Mandera at Sh10,000 each," he said.
Having walked many kilometres inside Kenyan soil, the escapees found their way to the Dagahaley refugee camp in Dadaab where they remained for several weeks.
"I think this was where I contracted TB," Yusuf said of his infection, which has left him weak. Once they felt ready to leave, they hitched a ride in the back of a lorry that took them to Garissa town where they boarded a bus to Nairobi.
"We parted ways at Nyamakima dressed in hijabs. I don't know what happened to my friends because we have never been in touch since then," he said.
According to him, he lived for a while with a green grocer who sheltered him for a while. All the time, he pretended to be a woman, always dressed in a hijab.
One day, the green grocer sent him to buy fresh supplies and he decided to use the money to pay for his fare back to his Siaya home.
Yusuf claimed he was willing to be integrated back to society on condition that the government honours the amnesty it promised radicalised youths.
"There are so many Kenyans as young as 12 years who cross the border in Wajir and Mandera into Somalia. These are the ones that sell intelligence to the militants," he said. "They are trained, and heavily armed. Some are even young women."
Yusuf claimed he decided to escape from Al-Shabaab because he saw no point in killing fellow Kenyans.
"I want to start a new life because at 47, I cannot look for another job. I expect the government to keep its word on amnesty because some of us did not get here willingly," he said. "Most of us are willing to leave this thing, but are we safe?"
-nation.co.ke