Equity Bank takes on Safaricom with free money transfer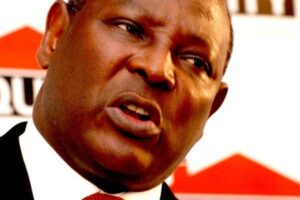 Equity Bank, riding on Airtel infrastructure, has launched its controversial thin SIM to offer voice, data and free money transfer services, marking the most significant challenge ever brought to Safaricom's door.
"We are removing barriers of financial inclusion, we are targeting telecoms to compete on data, SMS, voice and all levels of money transfer," Equity Bank CEO James told a press conference on Monday.
Mr Mwangi said the billions clients spend to send money will no longer be necessary. Equity Bank will ride on Airtel's infrastructure to drive its systems.
ROADBLOCKS
"We experienced roadblocks on the journey, Equitel will ride on our infrastructure using our free spectrum,"  said Airtel Africa chief executive Christina de Faria.
"You cannot dominate a market or stop innovation," Equity Bank boss James Mwangi.
The thin SIM is going for Sh600, and the cost of calling across networks is Sh4 while SMS will cost you Sh1.
Safaricom whose huge market share and profitability continues to draw mixed reactions is also faced with strong headwinds both from the regulator and competition.
-nation.co.ke