ICC rejects Fatou Bensouda's file in Ruto and Sang case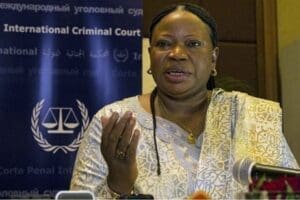 Bensouda suffers blow in Ruto case:ICC judges have rejected a key document that prosecutor Fatou Bensouda sought to use as evidence to prove charges of crimes against humanity facing Deputy President William Ruto.
They, however, admitted five other documents that Ms Bensouda filed as evidence in her bid to support her case against Mr Ruto and former radio host Joshua arap Sang.
The prosecutor is seeking to prove that the two suspects were responsible for the violence that rocked Eldoret and its environs in December 2007 and January 2008.
In her application in June,  Ms Bensouda argued that the document would help her confirm testimonies by prosecution witnesses that Mr Ruto planned and facilitated the violence that claimed 1,333 lives and uprooted over 600,000 people from their homes.
NO PROVE
The report had key information, was authentic and was reliable, she told judges
"The prosecution submits that the item is relevant to the charges, and particularly to the criminal responsibility of Mr Ruto and the organised character of the network. The prosecution further submits that the document has prima facie (face-value) probative value," she argued.
But Judges Chile Eboe Osuji, Olga Herrera Carbuccia and Robert Fremr rejected the document, saying it had little value to the prosecution's allegations.
They ruled that it was not possible to prove the information contained in the report.
PROBATIVE VALUE
"There is no information as to the provenance of the information set down in the report by the author of the report," they said in a ruling dated Monday.
The judges were of the view that admitting the document with little threads of proven evidence would pose a disadvantage to Mr Ruto and the network the prosecution alleges he established to carry out attacks on PNU supporters.
"Although the prosecution submits that it intends to rely on this document to corroborate other evidence in the case, the Chamber considers that it would be unduly prejudicial to the accused to admit an item of such limited probative value if information therein goes to the acts and conducts of the accused, namely Mr Ruto, and members of his alleged network," they stated.
ANONYMOUS SOURCES
Mr Ruto's lawyers had opposed admission of the document, arguing it was not authentic, and that it was part of a scheme to falsely hold Mr Ruto responsible for the crimes committed.
The team, led by lawyer Karim Khan, also claimed that the allegations in the document were based on anonymous sources.
Next month, the judges will rule on prosecution's request to rely on statements from six hostile witnesses.
It will also be clear whether Mr Ruto's lawyers can file a no-case-to-answer motion.
-nation.co.ke