10 Shocking Facts About King Mswati III-Kenya Visit
10 Shocking Facts About King Mswati III-Kenya Visit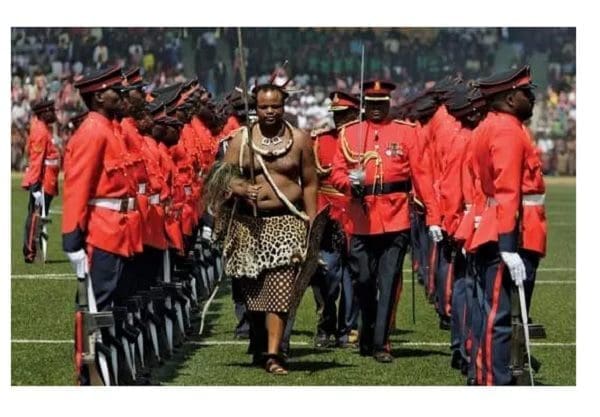 The legendary King of Swaziland, his Majesty King Mswati III, fondly called Ingwenyama is expected in the country today. The King will be touring the Mara to view the grand wildbeast migration. His notoriety for marrying young virgins every year makes him the most publicized monarch in the world. Close sources reveals that the King is booked at the new Angama Lodge owned by some political whizbangs in the country,
The impending presence of the King in the country sent this writer into deep digging to bring you this mindblowing revelations about his life that you didnt know.
1. The King at the time of his crowning was the youngest ruling monarch in the world at only 18 years.
2. King has 15 wives and 24 children and there are indications that this number will grow tremendously. His first two wives were chosen for him by his national councilors as a requirement by the Swazi law.
3. The King can only marry his brides after they have proven their fertility to him. That means he has to impregnate them before any marriage is considered.
4. Forbes list of World's 15 Richest Royals places King Mswati's worth at $ 200 Million US dollars.
5. The King banned photography of his luxury cars after being hit by criticism from human rights activists.
6. King Mswati's other name is "Ngweyama" which means "The Lion". Its also symbolizes the government and "Coat of Arms". The "Indlovukazi" meaning "Elephant" depicts the queen mother, as a part of this national symbol.
7. He is a hell of a dancer. The king discovered his talent in shaking leg in a traditional Swazi dance called sibhaca when he was still in primary school. A gift he pursued with enthusiasm throughout his school days. He organized a sibhaca dance group that participated in numerous competitions across the country, including the university of Swaziland.
8. King Mswati picks his brides from an annual dance 'the umhlanga' which attracts maidens from all over the country. The young virgins entertain the King, each professing their undying love to his majesty. The lucky virgin who the king is well pleased with is chosen as the new bride.
9. He was given a twin engine McDonnell Douglas DC-9 Private jet as birthday gift on his 44th birthday. by 'Development partners and friends'.
10. Despite his immense wealth and influence and the fact that majority of women dance themselves lame to please him, one woman denied his proposal to marry him.Tintswalo Ngobeni who is now living in England fled the country to avoid the advances of the King.Miss Ngobeni is now a vocal speaker against the Swazi regime.
The King's presence in the country has undoubtly send waves of excitement among Nairobians with many ladies wishing chance places them across his path. We wait to see how his pleasure tour will turn out.
Source-kenyans.co.ke
10 Shocking Facts About King Mswati III-Kenya Visit