Diaspora voters who are illegal fear exposure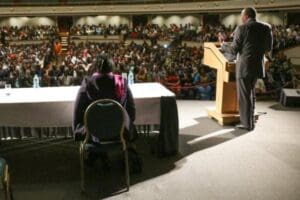 NINETY per cent of Kenyans living in the diaspora are afraid to vote in the country's elections because they are abroad illegally, an MP has said.
Speaking in Nairobi yesterday during a forum on the diaspora, Kitutu Chache MP Richard Onyonka said the Kenyans want their voter registration details kept secret.
"They fear being exposed to immigration authorities of the countries they live in," he said.
Onyonka said the illegal immigrants fear being exposed to the FBI and other authorities of their host countries.
They feel giving personal particulars, as required for voter registration, could jeopardise their stay oversees, he said.
Onyonka, who sits in the Foreign Relations and Defence Committee, said a bill to guide the registration will be tabled in Parliament next month.
He said the bill will give the Independent Electoral and Boundaries Commission permission to enlist them without requesting much details or sharing them with a third party.
The voters could be allowed to vote for presidential, gubernatorial and parliamentary candidates only, due to logistical challenges.
Washington Oloo, the director of diaspora affairs at the Foreign Affairs ministry, said the department is planning to facilitate their participation in elections.
He said they are consulting with the umbrella body of diaspora associations to implement the court order calling for their participation.
– the-star.co.ke