Photos:Uhuru attends Balala son's wedding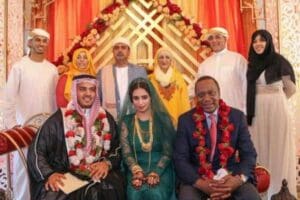 President Uhuru Kenyatta attended the wedding of Mining Cabinet Secretary Najib Balala's son on Saturday.
Naeem Balala married Safiya Sherman, daughter of prominent lawyer, Omar Sherman, at Vipingo Ridge in Kilifi county.
"You are in our prayers and we know you will build a successful family and future, because the foundation you are from has shown us what you can be," Uhuru told the couple.
"Your father has set a good example."
The President said the Islamic wedding demonstrated Kenya's rich multi-cultural and multi-racial heritage.
He emphasised that the country accepts people from different cultures and religions, who live together in peace and harmony.
"This is our desire. This is what we want to see – people accepting and living together in the spirit of mutual respect," the said.
He had earlier presided over a fundraiser for the Catholic Diocese of Murang'a and attended the closing of Faith Evangelistic Ministry's women's conference in Nairobi .
Balala exhorted family values saying they form the foundation for a successful nation.