Ruto accuses Bensouda of misleading ICC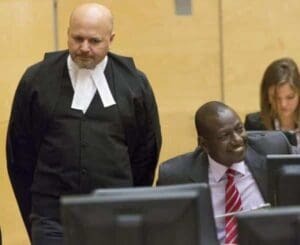 Deputy President William Ruto wants International Criminal Court judges to take action against Chief Prosecutor Fatou Bensouda, saying she is misleading the court.
Mr Ruto's lawyer, Karim Khan, claimed that Ms Bensouda misled the court about the circumstances that led to the withdrawal of a witness.
According to Mr Khan, the witness, whose identity has been concealed, was to divulge details on what transpired before, during and after the 2007 general elections.
The witness was to testify on rallies and private meetings that were allegedly attended by Mr Ruto.
Through a submission made to the court by Mr Khan, it is also believed the witness had "details of efforts by prosecution witnesses and third parties to fabricate evidence in order to falsely implicate Ruto in the charges".
The lawyer says there is evidence to counter the claim by the prosecutor that the witness was withdrawn because he was unwilling to testify.
"Whether the witness was going to provide an account which is favourable to the prosecution is an entirely separate issue and does not justify the prosecution's silence on such matters," the lawyer states in the document submitted on August 3.
-nation.co.ke