VIDEO: Over 100 suspected Mungiki members arrested in Nairobi

VIDEO: Over 100 suspected Mungiki members arrested in Nairobi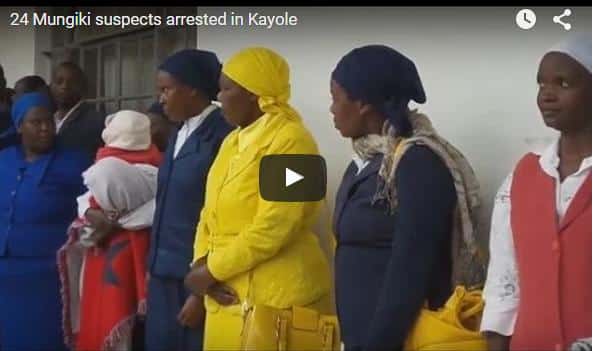 Nairobi, Kenya: More than 100 suspected members of the Gaza criminal gang and Mungiki have been arrested in a police operation within Kayole, Nairobi.
Police said among those detained include 24 suspected Mungiki members, who were found with training materials and books of financial contributions.
Kayole OCPD Ali Nuno said they arrested 54 members of Gaza on Tuesday morning before taking them to court where they faced various charges including being in possession of marijuana and being members of a criminal gang.
On Tuesday night, the officers also arrested 80 more suspected members of Gaza in a similar operation in the area.
Nuno said they separately arrested 24 men, whom they believe are members of Mungiki criminal gang.
"They are all expected in court Thursday to face various charges. The Mungiki gang seems to have changed tactics," said Nuno.
Nuno said they found a schedule showing the colour of clothes the men and women should wear at different occasions and days.
He added that they will sustain their operations against the criminal gangs that operate in the area. Locals said some youths have gone missing in the past months.
Mungiki activities had gone down following persistent police operations in which tens of them went missing or were found dead since 2007.
They usually thrive in matatu businesses and informal settlements where they demand illegal taxes. This gives an indication of a vacuum of policing in the affected areas.
The gang has also been used by politicians to advance their agendas.
Nuno said Gaza gang is also active in the area despite an amnesty that had been declared on them months ago.
More than 20 members surrendered two months to authorities and denounced their activities.
Gaza is a criminal armed group that operates in Kayole and has been linked to several murders, robberies, kidnapping and extortion claims.
It is also linked to many unsolved murder and other violent crime incidents.
VIDEO: Over 100 suspected Mungiki members arrested in Nairobi