MPs stab journalists in the back, twist the knife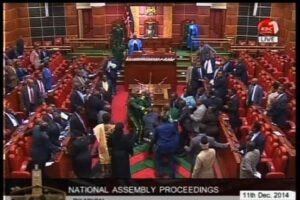 NAIROBI, Kenya, Oct 14 – MPs rejected an attempt by Eldas MP Adan Keynan to withdraw controversial amendments to Parliamentary Powers and Privileges Bill that limit media freedom when reporting in Parliament.
Keynan had proposed the deletion of Clause 27, which requires journalists to seek parliamentary approval before publishing proceedings of Parliament or any of its committees, and Clause 34, which introduces the offences of defamation and 'scandalous libel' on Parliament.
Following this development, the Kenya Parliamentary Journalists Association (KPJA) has appealed to the Senate to reject the Bill when it is transmitted to it for consideration.
"This Bill negates the gains of the Constitution, denies us our right as parliamentary reporters and its going to put us on the battle front with Parliament because we don't know where the buck stops. As the focus shifts, we are going to lobby the Senate, and hope that they won't let us down like the National Assembly. They promised to drop these amendments but we have seen is a stab on the back," KPJA Chairperson Roselyne Obala said.
On its part, Kenya Union of Journalists (KUJ) called on President Uhuru Kenyatta to reject the Bill in its current form otherwise it will move to court to challenge its legality.
"It is a sad day for the Kenyan media industry after Members of Parliament once again passed anti-media laws in bid to shield themselves from scrutiny. The proposed fines by the Bill are meant to intimidate journalists to turn a blind eye to corruption, mediocrity and sideshows that are synonymous with the activities of the 11th Parliament," said KUJ Secretary General Erick Oduor.
The journalists' lobby groups opposed the clauses saying a prescribed Sh500,000 fine or two-year jail term for those found guilty of contravening the provision had the effect of intimidating journalists.
MPs who contributed to the Wednesday morning debate on the bill rejected Keynan's reasons for withdrawal.
"The media need to also take responsibility; we must have people to be accountable for their actions. Journalism must be like other professions," said Endebess MP Robert Pukose.
Rarieda MP Nicholas Gumbo said; "Mr Speaker, are we just going to allow false and scandalous information to be written about us merely because we are Members of Parliament? Thus is a good clause and I opposing its deletion."
Rabai MP William Mwamkale: "They have been telling lies that we have made laws to protect ourselves, so here we are trying to make good that which has been made bad."
In a memorandum presented to Keynan, the journalists' organisations recommends that this clause be deleted in its entirety as it interferes with the freedom of the press as provided for in the Constitution and the Standing Orders.
This section also purports to provide for how a media house or other entity would package content from these proceedings, which would be contrary to established practice.
"Already, the Standing Orders and the Speaker's Rules provide sufficient guidance on the transmission of House proceedings. Parliament has a working broadcasting unit that, its weaknesses and areas worth strengthening aside, has sufficient ways of providing access to the proceedings of the House. Regarding the transmission of committee proceedings, the Standing Orders also provide sufficient guidance on the manner in which the media gets to have the sittings transmitted." read the Memorandum.
On Clauses 34 and 35 which touch on defamation against Parliament, journalists said the effect of passing this Bill with these clauses intact would be to stifle the freedom that the press has reported on Parliament.
The Memorandum read: "Defamation of Parliament is an amazingly vague term given anything deemed as negative – such as an initiative by MPs to reduce allocations to the Judiciary for frivolous reasons – is bound to be interpreted as constituting defamation or libel against Parliament. It would be fair to say that the provision that a person commits an offence if they as much as "speak words defamatory of Parliament, its committees or its proceedings" is not only absurd but open to all manner of abuse.
-capitalfm.co.ke