Raila at Kilimani police after George Aladwa's arrest over incitement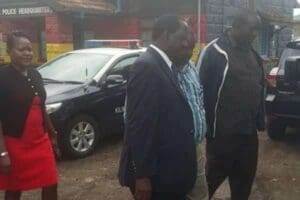 Cord leader Raila Odinga is at Kilimani police station in solidarity with George Aladwa, who was arrested over incitement remarks he made in Kibera.
Raila was accompanied by lawyer John Khaminwa who will be in charge of the case.
The former Nairobi mayor was arrested by Flying Squad at Railways Club on Friday and taken to the station for questioning, police said.
Aladwa, who is also ODN Nairobi branch chairman, allegedly made inflammatory comments captured on a video warning the state against rigging the 2017 elections.
He was in the company of other ODM leaders when they addressed a public rally in Kibera and said rigging the elections will plunge the country into bloodshed.
Aladwa in the video warns that due to the entrenched culture of election rigging, it will "require that some people die" if Cord leader Raila Odinga is to become President.
Aladwa told the Star on Thursday he was misunderstood, as he meant supporters will "die of joy" if Raila wins.
"Nilisema watu watakufa na furaha," he said.
"2017 imekaribia na sisi kama watu wa ODM tumebaki na risasi moja. This time round the outcome of the elections ikiwa tumeshinda na watunyang'anye wacha kiumane…Raila ndio awe President lazima watu wakufe kiasi."
"I was shocked to watch that video," he said.
DPP Keriako Tobiko on Thursday directed police to carry out speedy investigations into the video remarks.